Everyone is talking about Google's Better Ads Standards and how it might affect websites. We're here to tell you that TrafficStars has you covered. Here's what you should do to stay compliant.
WHAT TO DO TO STAY GOOGLE COMPLIANT
If you have a lot of Google search traffic on your website and you need to take care of staying compatible with Google regulations, we have a solution for you.
Our team of compliance experts reviews every single ad to identify misleading elements and apply relevant flags to advertising campaigns, according to our interpretation of the conditions outlined by Google.
To stay Google compliant simply go to your account and untick the following flags that are not matching Google regulations.
You can do it in 1 click with the button "Google Compliant creatives only" that will automatically deselect all non-compliant flags for your advertising spot. Non-compliant flags are highlighted in red.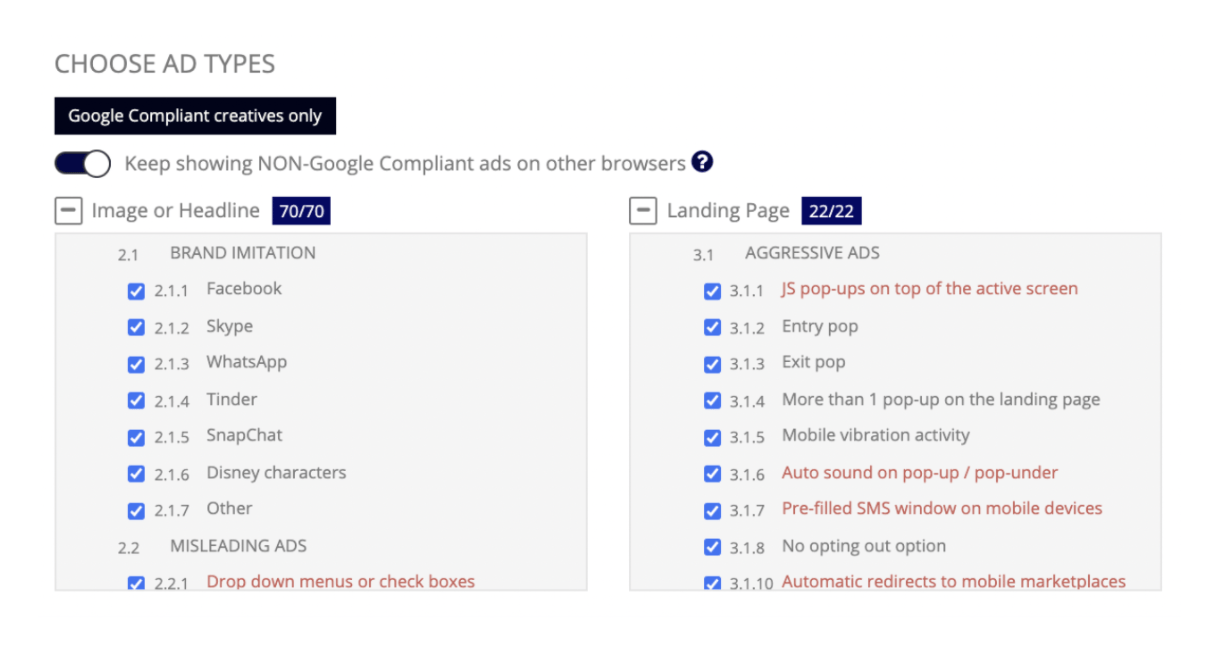 By clicking this button, the following items will be automatically blocked from your ad spot:
Misleading Ads
(everything except for animated / rotating / video / site mimicking should be removed)
Drop down menus or check boxes

Microsoft Windows Fake Elements

Fake Disclaimer

Fake video players

Fake play button

Fake Download Button

Site mimicking (layout, logo, elements)

Exit Button (as this refers to "fake" exit button)

Closing Button (as this refers to "fake" closing button)

Fake calls/messages/notification

Features that do not work

Fake mouse pointer
Low Ad Quality
("Aggressive flashing" should be removed)
"Aggressive Flashing" - Ads that animate and "flash" with rapidly changing background and colours
Landing Page aggressive ads
JS pop-ups on top of the active screen

Auto sound on pop-up / pop-under

Pre-filled SMS window on mobile devices

Automatic redirects to mobile marketplaces

Auto Redirect
We recommend you keep showing these kinds of ads on browsers that are not in "Better Ads Coalition" to increase advertisers' competition for your traffic using the switcher "Keep showing NON-Google Compliant ads on other browsers"

GO NATIVE
Native advertising looks like a part of the content of your website so it's always Google compliant as there are no misleading elements. Therefore, it is less disruptive to users and goes in line with the Better Ads Experience Program.

Video Pre-Roll Ad Format
It is important to set up a video Pre Roll ad on your website so it would stay compatible with Google regulations:
Length of your Video Pre-Roll ad shouldn't be more than 30 seconds

Skip button (x) on the ad is obligatory

Skip button (x) countdown delay can be not more than 5 seconds
Full Page Interstitial Ad Format
Another full-page format that can be a good alternative to Popunder ads.
This ad format loads only by a click between two pages of the site content and is immediately dismissible by a user, which provides better user experience on the site and is not covering the actual content the user is viewing. All these settings make Full Page Interstitial compatible with Better Ads Standards.
FURTHER SUPPORT
We understand the implications of these changes to publishers, which is why we're here to help you, every step of the way. Feel free to ask your account manager in the Intercom Chatbox on the platform or ping us at support@trafficstars.com.