One of our most frequently asked questions from new advertisers is – Can I get a whitelist for testing your traffic?
There is no definite answer to this question. The whitelist depends on several factors: starting from the campaign's targeting and the choice of format and ending with the sales funnel, offer, and GEO.
There are many ad spots on the TrafficStars platform. You can only understand which spot will suit a particular offer based on the results of the tests.
Website whitelist
And to make your first tests as successful as possible, we recommend ensuring the following rules:
Launch one campaign on the xHamster.com site's spots (since this is our largest exclusive traffic source): site id 30 or site id 12 (depending on whether you have a mobile or desktop offer)

Launch a second campaign for all other spots from the Prime list (by selecting the appropriate whitelist). Then, exclude xHamster ad spots, by clicking Edit.

Launch the third campaign on all remaining spots (adding the same list of spots, but already on the blacklist)
Prime Ad spots whitelisting
To better understand our traffic inventory, you can view all available spots by selecting the Prime list: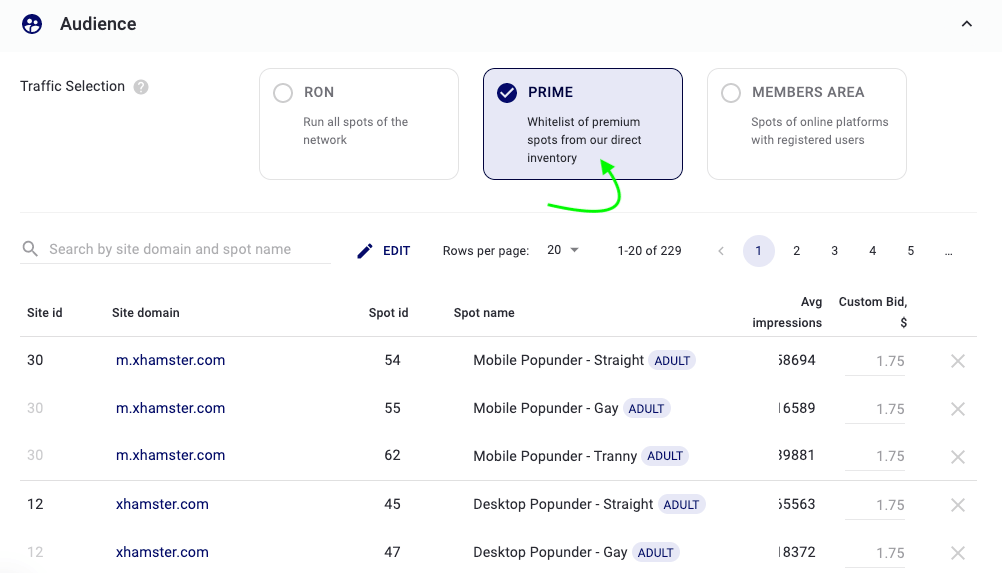 In the Prime list, we sort websites by the number of available daily impressions worldwide and the percentage of organic traffic according to the SimilarWeb data.
Creating whitelists through the Optimizer
For the effectiveness of the test, we recommend adding an Optimizer to each ad campaign. With its help, you can save much time on manual optimization. Check out the best practices in this guide.
Pricing Models
When choosing a CPM pricing model, we recommend focusing on the recommended bid (calculated as eCPM for all [GEO + ad spot] combinations chosen by you). The Minimum bid will allow you to start getting some traffic from all chosen spots, but for efficient test volumes, a recommended bid is much preferable.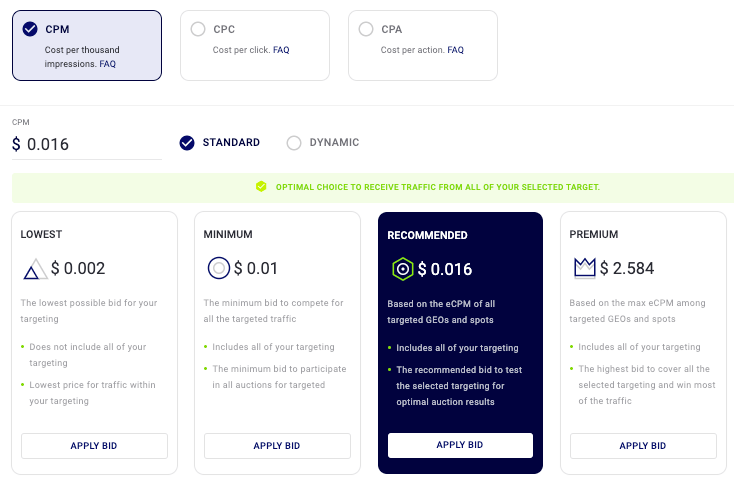 There are no minimum bids if you choose the CPA or CPC pricing models. Your campaign will participate in the test period, after which it will receive traffic according to the eCPM. To know more details about the CPC and CPA pricing, check out these useful articles:
There are many strategies for success. With the TrafficStars Self-serve platform, you can set up the most appropriate targeting for your offer and choose the best sites specifically for your advertising needs. We wish you successful advertising!
Thank you for choosing TrafficStars!
Related articles: