Contents
When it comes to digital advertising, there are many different ad formats to choose from. Each one is unique and comes with its own pros and cons. However, one of the most popular ad formats is banner ads.
That's because they are highly effective and can help increase your revenue tremendously. But what makes them so effective, and how can you benefit from them? Read on to find out 👇
What are Banner Ads?
First, let's answer the question: "What exactly are Banner ads?" Well, Banner ads (also known as display ads) are rectangle ads that appear somewhere on a website. They can be found anywhere.
For example, if you've been to YouTube, you might have seen ads displayed on the bottom of the video player or the top left corner of your video suggestions.
Those are banner ads! And they are highly effective if you know what you're doing.
Banner Ads Types
When it comes to Banner ads, you can distinguish them in different ways: by size, device and type. There are three types of banner ads:
Static Banner Ads - These banner ads are the simplest ones out there. They are just still images that you can click on. However, while they are the simplest, they tend to grab the least attention.
Video Banner Ads - These ads grab more attention. Since the ad has moving parts, people tend to pay attention to it. You can create one by using animated GIFs or creating a video file. Video banner ads requirements.
Interactive HTML5 Banners - These are the most complex ads of them all. While they're similar to video ads as they can be animated, they add one more thing - interactivity. That's especially great for making something memorable. Read more about launching HTLM5 Banner ads in TrafficStars.
Common Banner Ad Sizes
Additionally to distinguishing ads from types, you can also distinguish them with different sizes. There are a huge number of banner sizes you can use! For example, Google ads have over 40 different formats.
This infographic shows the popularity of banner formats in TrafficStars:
Mobile banner ads

Desktop banner ads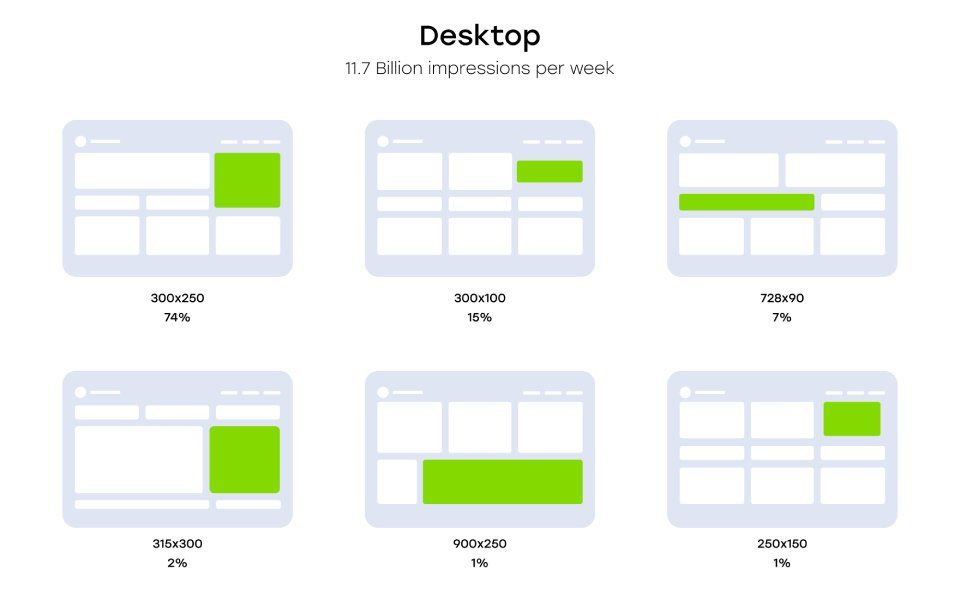 Tablet banner ads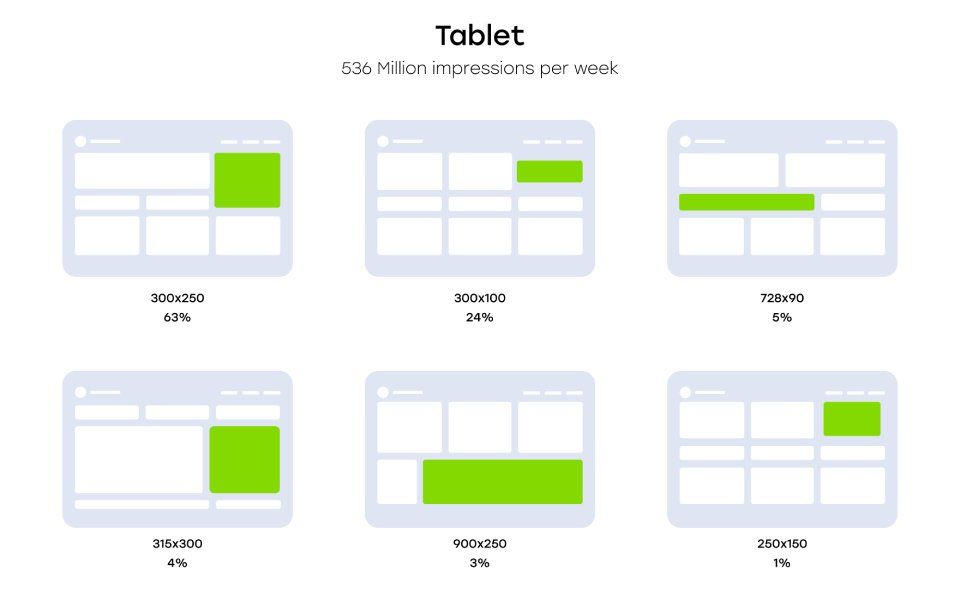 Large Footer banner
Dimension: 900x250 It's located at the bottom of a page. Is the largest banner in TrafficStars inventory, so it's hard to miss such a size.
Underplayer banner
Dimension: 728x90 It is primarily located under video players on desktops, hence the name.
Rectangular banners
Dimensions: 300x250, 315x300, 250x150 They are commonly seen among the website content and on the side menus.
Mobile banner
Dimension: 300x100 This is the most common banner for mobile devices and one of the most important formats out there. Since it shows high performance.
💡 300x100 and 300x250 are the most popular banner ad sizes in our inventory. So we recommend starting with them. Try other banner sizes to scale your banner ads.
Are Banner Ads Effective?
The short answer is yes. It's an effective tool that can quickly increase your conversions and business revenue. However, they are only effective if you've set yourself the right expectations and know what you're doing.
For example, most of the time, you shouldn't expect to be seeing a direct impact on your conversions. That's because when people see banner ads, they usually aren't aware of the problem they have, or they haven't yet heard about your company.
So instead, use banner ads to increase your brand awareness. That's for two reasons:
High Visibility - When it comes to banner ads, they can be found on many websites. Almost any blog wants to add these ads, which means it can reach many people.
Low CTR - Banner ads aren't that great for conversions because they tend to have a low CTR. In TrafficStars, the average CTR is about 0.11%.
However, while banner ads are best used for brand awareness, there is a way of using them to increase your conversions directly. And that's by creating retargeting ads. That's because, with these banner ads, you can cheaply advertise to your client about sales.
And the reason why it's effective is that they already know your brand, making them way more likely to buy from you.
The Cost of Running Banner Ads
Now that you've learned what banner ads are and how they can help you grow your business, you might be thinking about the costs of running banner ads. Fortunately, Banner ads are relatively cheap, so you won't need a massive budget for them.
However, there is no fixed cost when it comes to banner ads. That's because the ad costs depend on two things:
Who you're targeting to
And how well your ad performs.
For example, in TrafficStars, the countries have been divided into three categories. Here's a brief description of each one:
Tier 1 Countries are first world countries like the US and UK. In there, there's more purchasing power, and the markets are more competitive, which is why our recommended bid for banner ads is $0.07
Tier 2 Countries are second-world countries. There still is excellent purchasing power, and the markets are less competitive. For this reason, the recommended bid for TrafficStars is $0.018.
Tier 3 Countries are the poorest countries. They tend not to have a lot of purchasing power, so the estimated CPC is cheap. In those countries, you should be ready to bid $0.005
13 Tips for Designing High Converting Banner Ads
By now, you know a lot about banner ads! Now all that is left to do is take action and start growing your business to new heights. However, when it comes to these ads, the most important thing you need to do is design a high-converting banner ad.
So to help you out with it, we've listed 13 banner ad best practices:
№1 - Use Eye-Catching Images
Your ad's first objective is to grab the attention of the viewer. If you don't, then your ad cannot help you grow your revenue. So what can you do about it? Well, for starters, you could use eye-catching photos.
It would be difficult for the viewer not to ignore your ad with these photos. However, it would be best to make sure that it's professionally shot and royalty-free when picking one. So, for this reason, I recommend you check out Unsplash. There you can download images for free.
№2 - Animate Your Ads if Possible
To make your ad grab even more attention, you can take it to the next level by making it animated. For this, you could go in two ways: First, you could create videos about your product or use stock videos. Or you could just animate your texts and images.
Each one of them works wonders and helps to grab more attention than a still image. However, to do this, you will need some animating skills to make it look good. You might also need to hire a videographer to make your ad videos look more professional.
But if you're just looking to animate your still image, then here are a few recommendations. First, you could use Canva, which is a free photo editor. Or you could use something like Placeit to create stunning banner ads without any design skills.
№3 - Add a Small Outline at The Edges of Your Ad Creative
Do you want to know a little-known secret to grab the attention of your audience? Well, it's by adding a tiny little outline to the edges of your ad creative. That helps you to separate from the content making your ad stand out.
And what stands out usually gets the most attention. So when designing your next ad, make sure you add even a 1px wide outline, and you'll see a difference.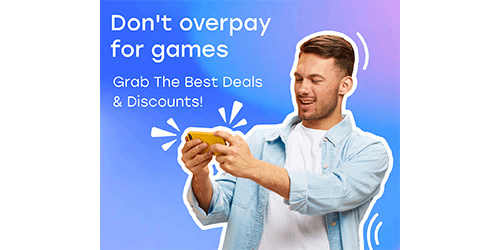 №4 - Create Multiple Ad Formats
When creating your ads, you must make sure that you have designed multiple ad formats. That includes your usual square format but also skyscraper and leaderboard one.
With them, you'll be able to display your ad in more places, helping you spread your brand around quickly, and making your brand awareness campaign more effective.
However, we don't recommend you create all of the banner sizes. It's time-consuming, which might not help you get any better results. Instead, you should try out only the ten best-performing ones.
№5 - Choose Your Fonts Wisely
When it comes to designing an ad creative, many beginner marketers tend to overlook this tip. That's because they design their ads on full screen. That's okay to do, but a problem that arises is that the font is too hard to read.
So when designing your ad creative, try to avoid any cursive fonts or extremely thin ones. They tend to be challenging to read when the ad is small!
№6 - Add a Call to Action
While you shouldn't expect to make any sales from your ad (unless it's a retargeting ad), you should make them click your ad. That way, they'll know more about your brand, and the lead will be warmer.
So what should you advertise on your banner ad? Well, you can promote anything, but what works best is if you give them something. For example, free e-books or blog posts convert well.
Additionally to that, you can try out discounts and free trials. The only flaw is that they don't convert as well as something free would do.

№7 - Add Urgency
It's not enough to tell what your audience must do. That's because many people tend to take action later. So instead of losing potential customers, you should start by adding some urgency to your ad creative.
You can simply add "Limited Time Only" to your ad creatives, and your offer is more enticing. That way, the ad watcher will have to decide if they want what you offer now rather than later. And that brings you more clicks than usual.

№8 - Keep The Design Simple
While there's a lot that goes into designing a high-converting ad creative, you should overcomplicate it. That's because when you overflow with information or have too many elements in your ad creative, it could confuse the ad watcher.
And when you confuse them, you lose them!
So just keep your ad creative as simple as you need. Add only the most relevant information. If the viewer needs to know more, then you can explain it once they've clicked.
№9 - Use Statistics
Have you got some statistics about your service and product? If so, then be sure to mention it. That's because people find statistics extremely convincing. Just think about it! Would a simple "better" convince you more than specific statistics about the improvement?
You'd probably pick the latter! So if you have an interesting result or any other statistic, go ahead and add it to your ad creative. You could even mention how many 5-star reviews you have!
№10 - Give Your Logo High Visibility
When it comes to a brand awareness campaign, your primary objective is to be memorable. That way, when they hear about your brand again, they'll be familiar with it.
And for that reason, your ad should have your logo easily visible. That's the only way you can get to your client's head. You could either have the logo on the corner or display it at the end of your animated ad creative.

№11 - Personalize Your Messaging
Nothing grabs more attention than ads that have personalization in them. That's because when your messaging has called them out, people tend to give more attention to it.
So how can you personalize the messaging for your audience?
Well, that's by creating multiple ad creatives for different people. For example, you could mention something about their location, profession, hobby, etc. While that might take more work, it will help you convert more people.
№12 - Make Sure Your Ad Visuals Are Consistent With Your Brand
Apart from your logo, you should consider how your advertisement looks. It must match your brand. That's because if you do that, people will spot your ad quickly and distinguish it from other brands.
That helps your brand stay more memorable. So make sure you have the same colours and fonts as you have on your logo and website.
№13 - Keep on Testing
It doesn't matter how many of the tips you implement on your next banner ad campaign. The most important thing you need to be doing is advertising consistently. If you won't, it will be harder for you to get profitable.
So keep testing your banner ads. Make A/B tests to see what changes improve your ads and what won't. Then you can get closer and closer to highly profitable ads. Conclusion
So as you can see, banner ads are highly effective. While they might be best used for brand awareness campaigns, there's also a way to get some sales with them. However, the knowledge learned from this article is useless if you won't put it into use!
And what better way to do that than by launching your next banner ad campaign! You can get started with TrafficStars. We have more affordable CPMs than more popular ad platforms like Google Ads! That gives you a higher margin of error and helps you get profitable sooner!