There is a lot of hype around cryptocurrencies. They can be very volatile but volatility in investments is where the serious money can be made (or lost). This, in turn, means a lot of people want to get involved and this presents an opportunity for affiliate marketers.
If an advertiser can have somebody sign up to a crypto site, the potential pay-outs are impressive. Even if the initial deposit is just $100 - $200, the pay-outs can still be over $1,000.
What Is Required To Run Successful Crypto Campaigns?
Want to get involved? Here's what you need…
Any affiliate marketing campaign needs good quality traffic. This means users that have a genuine interest in cryptocurrencies and the offers you are promoting. Perhaps the best source of traffic is from Google ads and Facebook. They help you quickly gain traffic that is highly targeted and affordable. But Google and Facebook don't always allow crypto ads. Other great sources are ad networks with relevant traffic that can deliver good volumes for an affordable price.
Deep Knowledge in Cryptocurrencies
If you're not an expert in cryptocurrencies already then you will need to invest some time to educate yourself first. To be able to attract more users, you need to offer them a good deal. To do that you will need to understand how it works, how people make money on it and what actually a good deal looks like. Your marketing material needs to resonate with the right users and moreover, convince them that it's a trustable source.
To get the right people to your offer, in the first place, you need great-looking, catchy creatives to help you attract user attention and boost their interest. You don't necessarily need to be a master at graphic design, but you will need reasonable editing skills and access to software like Photoshop. Otherwise, you can pay a freelancer to create them for you for a reasonable price.
A landing page is the page where the conversion happens and where you need to convince the user to perform an action. On the landing page there should be a clear and visible registration form. It's the page where the user should be convinced to make a deposit by creating an urgency and easily navigating him to the deposit page.
Pre-lander is the first page the user lands on before arriving at the actual landing page. They are designed to prepare the visitor for what to expect and to engage him with the offer. They don't usually need to go into much details but should give prospects the general idea. With the prospect then better prepared, they are less likely to bounce back and more likely to accept the deal. Software is available that helps you create professional and functional pre-landing pages easily.
Retargeting is a way to attract users who have already visited your site but not necessarily taken up the offer. This can be very effective because people are not always in a position to agree to something right away and retargeting helps you remind them about your offer.
Split testing is one of the most important aspects of online marketing. It allows you to test different configurations against each other so you can keep on improving the performance of your campaigns. This helps you optimise according to the best creatives, best landing pages and top converting targeting. It is very important to have enough budget for testing so you can get the most out of your campaigns.
Top Ad Formats for Crypto
Depending on the type of traffic you are promoting your crypto offers on, there are different ad formats that would perform well. However, there are 3 ad formats that have proven themselves as the best performing ones across different traffic sources:
Classic Push Notifications
Push Notifications is a great ad format which allows better engagement with the users as they don't have to be on a specific site to receive your notification. They are an intrusive form of marketing as they are not requested. Push notifications can't be sent to just anybody – the user will have to previously subscribe to the notifications to receive them.
In-page push ads are actually a type of banner ad that's displayed directly on a website, but they look very similar to classic push notifications. They typically work on a cost per click model and the end-user does not have to agree to notifications to see them.
Popunder is a popular ad format that opens under the main browser window or in a new tab after clicking somewhere on the main website. Popunders are a preferred ad format by many media buyers as they do not require a click from the user on your ad, instead they directly display your landing page in a regular browser window.
Top GEOs
Typically, crypto converts best in the wealthiest and most developed countries. But you can also get good conversions among countries with evolving economies.
Some of the top performing GOEs are:
Tier 1 - DE, CH, GB, AU
Asian - JP, MY, TH
Tips
Select some of the top GEOs and start researching them. Follow the GEO markets to keep up with your selected GEOs and also look for local news updates and stories. You should then create ads targeted towards this audience.
It's a good idea to see what other crypto advertisers are doing because it helps you use some experience from seasoned marketers. Invest in spy tools that help you see who other advertisers are targeting. Take note of the ads, pre-landers and landing pages they are using and look for ideas you can apply yourself.
Use a combination of advertising methods. Run classic push CPC ads as well as in-page push ads. Don't forget to also use popunders.
Creatives
The right creatives can make a big difference to how well your campaign works. They can help get peoples' attention and get them excited about the opportunities.
Use numbers and money
Use emojis 💸 💰 🤑
Use expensive cars, mansions, money, jets
Use facts - "You can make more than $500 a day"
Use catchy CTA - "Make thousands of $$ in just a few minutes,", "Register now and you will never work again!", "Change your life today!"
Below Are Just a Couple of Examples of What a Good Creative Should Look Like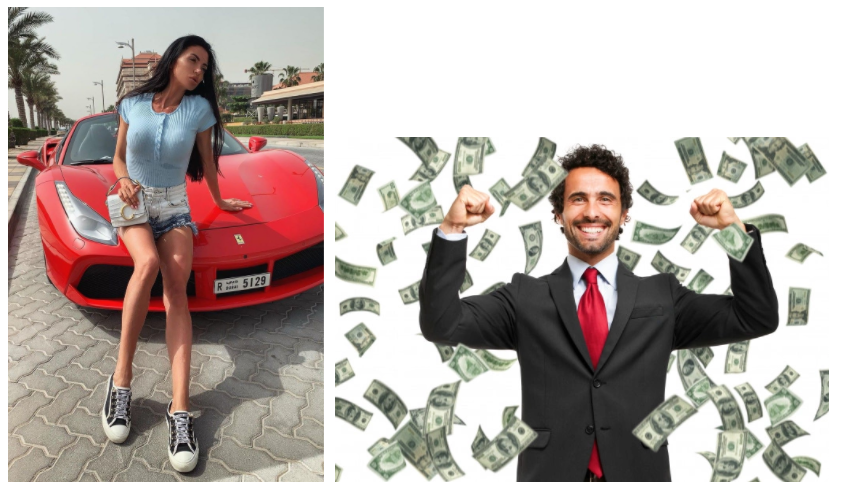 Pre-Landers
Here are a few tips on how to create your pre-landers:
Build Trust
Article in the style of "How to get rich" or "How to turn $200 into $20,000"
Explain how it works and how to get started
Expert opinion
Reviews and testimonials
Good CTA
Pre-lander example: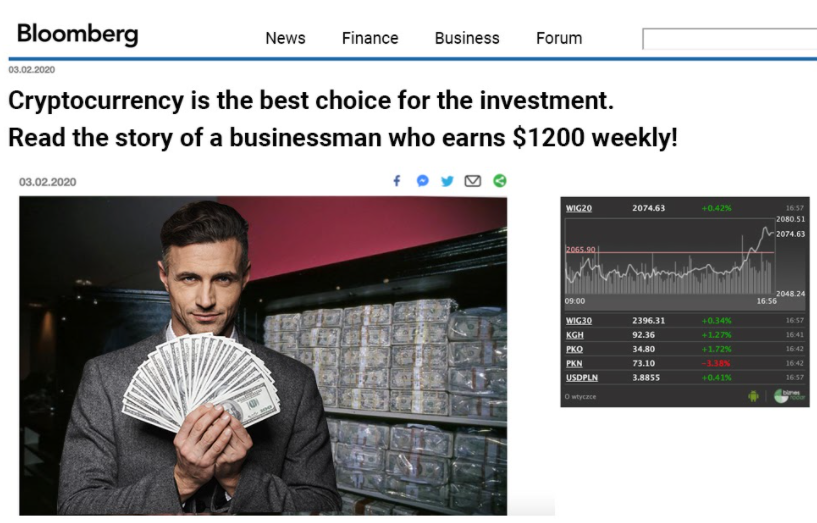 Landing Page
Below are some tips on how to build a great landing page.
Your landing page should make it easy to find the registration and deposit pages.
Use a educational video
Create urgency. "Get your 50% discount now" can be effective because people don't want to miss out on discounts. "Last purchase x minutes ago" will help people think the offer is in high demand, making them more likely to want to get involved.
Landing Page Example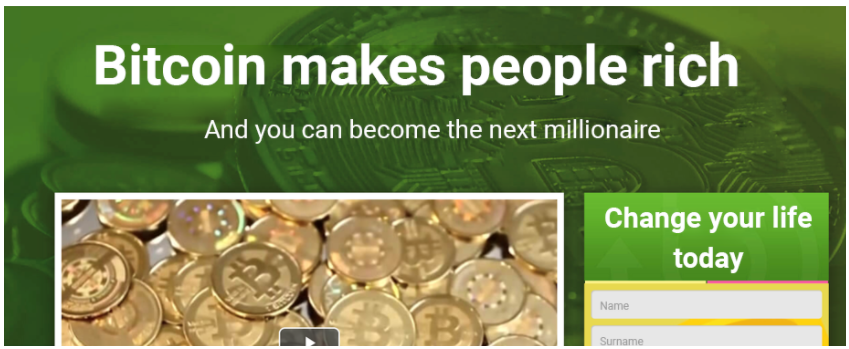 Conclusion
It does take some work and research, but just about anybody can get involved with crypto advertising. Follow the guide above and you are well on your way to creating a campaign that can be very lucrative for you. If you want to know more about how to run a successful campaign then the team at TrafficStars will be delighted to help. Contact us and we will help you create a crypto advertising campaign that makes you a lot of money.