Who doesn't like special offers? With the upcoming holidays, the end of November is known as the shopping season. This years' Black Friday and Cyber Monday are about to happen very soon - on the 26th and 29th of November. Not only those 2 days but the whole weekend in between and the so-called Small-Business Saturday are one of the most profitable days during the whole year for many affiliates and retailers. Holiday retail revenue is predicted to reach $843.4 billion from the weekend of sales. If you want to take advantage of the upcoming shopping days and skyrocket your conversions, take a look at the following tips we have gathered for you.
What offers should I promote during Black Friday?
No matter what kind of offer you promote, you can take advantage of the Black Friday euphoria. With the winter and holiday spirit coming along, this is a season with a spike in traffic and a lot of potential revenue for any affiliate.
Along with the physical products, consumers are looking for discounts and special offers among all kinds of digital products too. If you have Nutra offers, Sweepstakes, VOD, Gambling or Crypto offers make sure to prepare for the holiday season with some special promotions.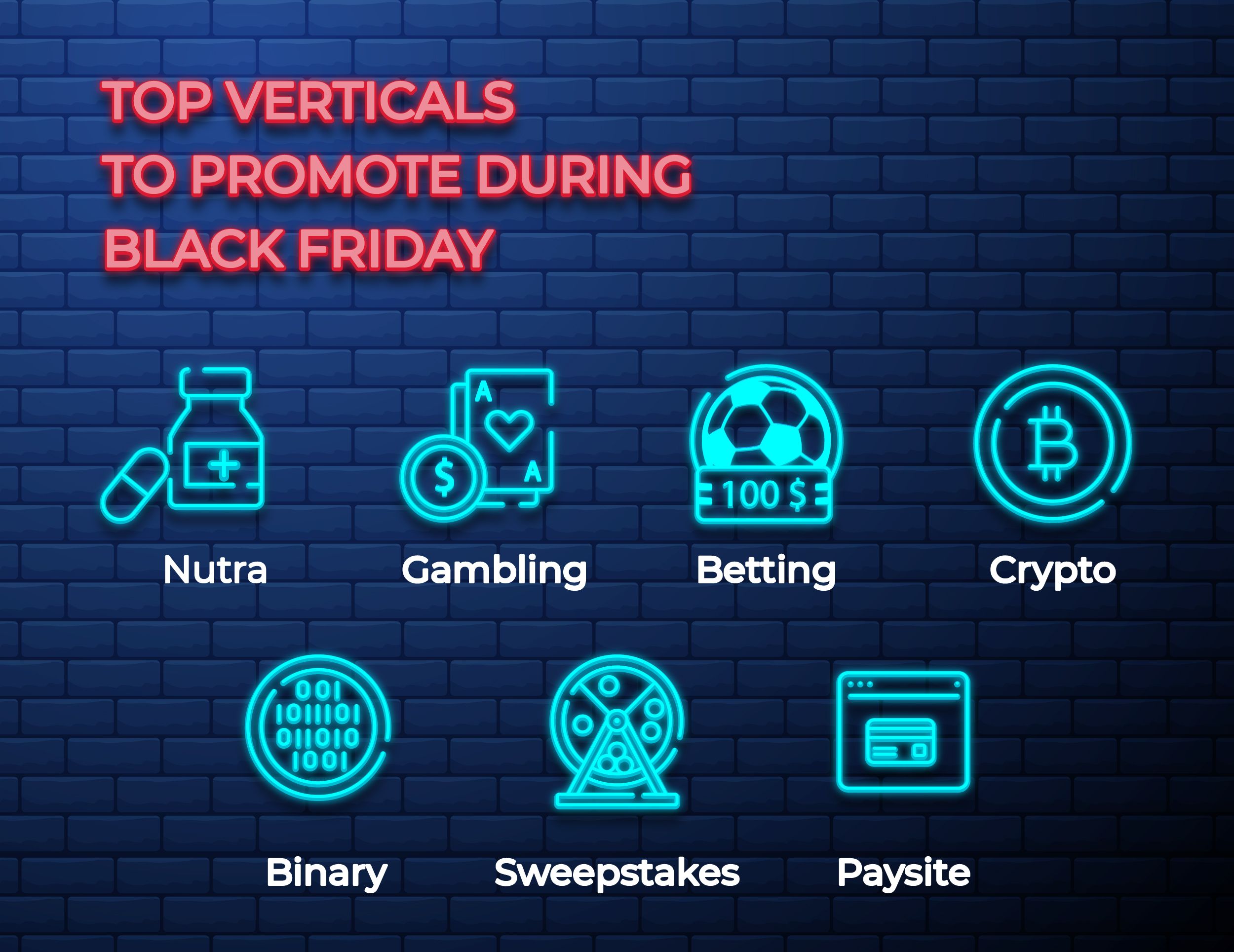 What ad formats and targeting should I choose?
During Black Friday, creatives with a special offer have 60% higher CTR compared to the regular ones. Some of the best formats to promote your Black Friday offer are Popunders, Interstitials, Push Notifications, Banners, and Native ads. The top ad formats would depend on the different offers. For example, for Nutra, VOD or Dating offers the best formats would be Banners and Native ads, for Crypto, Gambling, and Sweepstakes best-converting formats are Popunders and Push Notifications.
Targeting is essential not only during Black Friday but this time of the year is more competitive than ever, so segment your campaigns wisely to target the right audience. Don't stick to desktop only, mobile devices show higher CTR and CR during the past few years, so make sure you have separate campaigns for all devices.
When it comes to top GEOs the best converting ones are the countries from Tier 1, but they are the most competitive as well. Some countries have less interest in Black Friday. However, that doesn't mean that an offer won't be successful there. Those countries are also much cheaper and less competitive, don't miss out on some hidden gems from Tier 2 and 3 GEOs.
Here is a list of the top GEOs gathered from the previous years' data.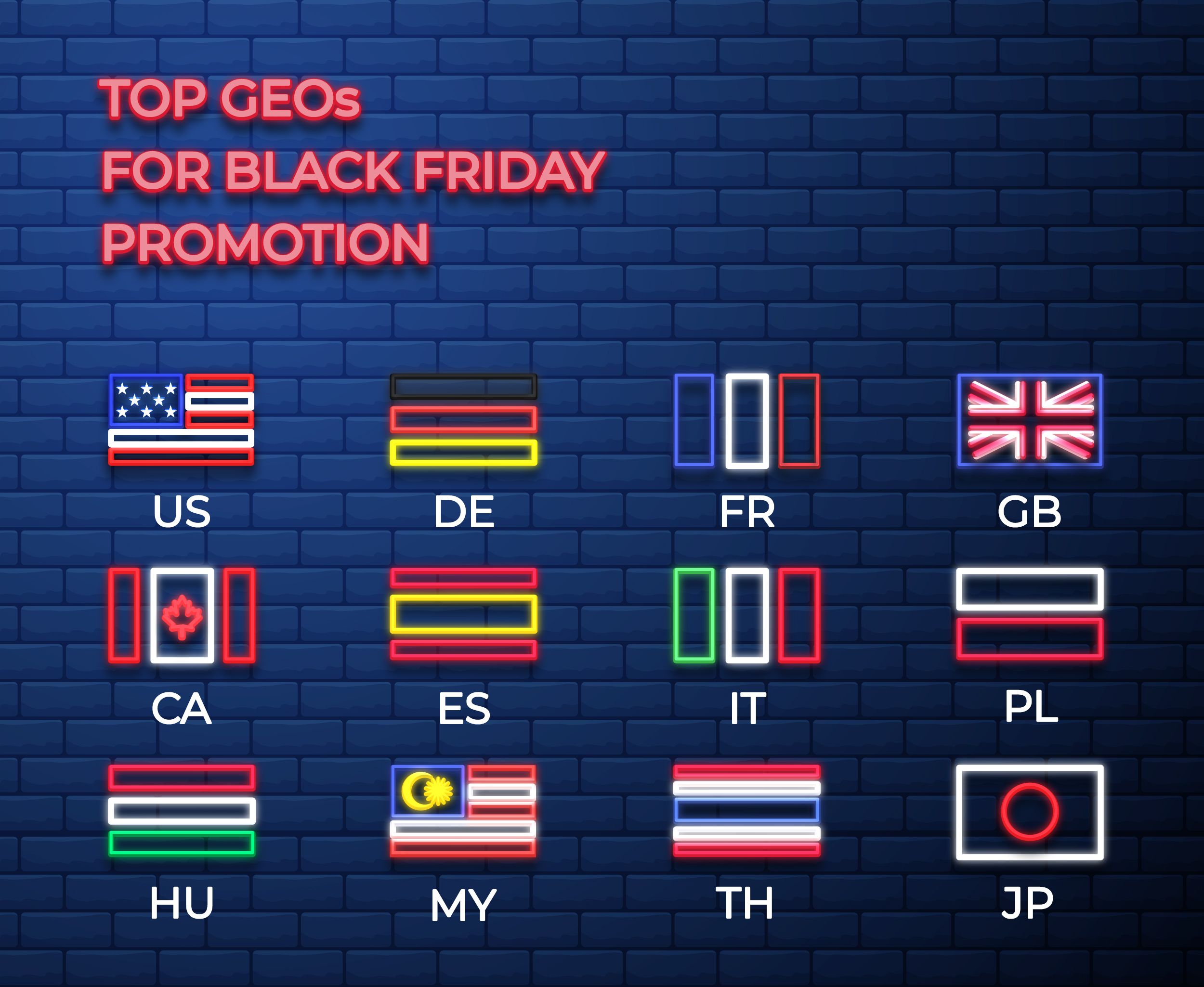 Ideas for catchy creatives and landing pages:
# Make customers feel lucky - People like to feel as if they are a part of something special and unique. By making them feel lucky you increase your chances they will engage with your offer. Inspire action by making the customer feel exclusive.
# Element of Surprise - Using psychological triggers such as elements of surprise and mystery is one of the best ways to spike your conversions during Black Friday. Surprises are exciting, which makes them a great marketing tool. Tease your customer and make them curious to find out more about your offer.
# Create a state of urgency - Time-limited offers trigger fear of missing out. By creating a state of urgency you reduce the chances the user will close your landing page. Chances he will convert later and much lower, so don't miss out and make him want your offer now or never. One of the ways to create a state of urgency is to use countdown timers on your landing page.
# Timing is everything - start your campaign just on time, so it reproduces the desired effect. Start at least a week before Black Friday and have your creatives ready in advance. Make sure you have enough creatives and landing pages so you can A/B test and leave the top-performing ones for the high shopping days.
# Spin that wheel - Gamified spin to win campaigns increase conversion rate by more than 20% according to a recent test made during last Black Friday. They are interactive and engage the user to take action. You can easily combine mystery, element of surprise and make the customer feel lucky with this type of game included in your landing page.
# Use Retargeting - Targeting the right audience is the key to getting more conversions. Don't focus only on quantity but quality as well and try to convert more of the users that have already visited your site. Have your pixel set up and create a retargeting campaign in parallel with the regular ones to remind your customers of the products and services after they leave your website without buying.
# Keep promoting - Even after the end of Black Friday and Cyber Monday, don't stop promoting your offer. Start new campaigns with fresh creatives and landing pages and use the data you have gathered from your old campaigns to identify the right audience and targeting. Special offers don't have to finish with Cyber Monday, you can extend your promotion throughout the whole holiday season.
We wish you successful Black Friday and if you have any questions feel free to contact TrafficStars Team!