The iGaming scene is gaining momentum in Southeast Asia, making it a hotspot for various gambling verticals. This region stands out as one of the most promising for online gambling, including slot machines and free bets, all conducted through secure and legal means, especially on well-regarded platforms. This article delves into the lucrative opportunities of earning through the promotion of an online casino in Malaysia and Singapore, shedding light on online gambling in Southeast Asia, sports betting, iGaming affiliate programs in the region, and the thriving iGaming industry in ASEAN. To kick things off, let's explore a bit about these countries.

Singapore
What shall we say about Singapore? It's a high-income city-state located at the southern tip of the Malay Peninsula, and the average cost per click there is lower compared to most TIER-1 GEOs, however, the standard of living and purchasing power is at a higher level.
In terms of currency and what people earn (and therefore spend), Singapore has the third-highest average salary in the world, at $3982 per month. Woah! Language-wise, there are 4 official tongues in Singapore: English, Standard Chinese (Mandarin), Malay, and Tamil. But fortunately, English is widely spoken there too
Malaysia
Malaysians are big-time web surfers. In fact, 75% of the population prefers to purchase their products and services online. As in most countries in Southeast Asia, mobile traffic significantly outperforms desktop. This should give you a succinct idea of your targeting options.
Up to 60% of the population speaks English. However, they mostly live in big cities, the cities with the greatest populations are as follows: Kuala Lumpur, Subang Jaya, George Town, Seberang Perai, and Ipoh.
Great, now you have a general idea of these GEOs. The next step is choosing the right offer. In particular, attention should be paid to the following important factors.
How To Choose the Right Offer?
Picking a quality offer is half of the battle; the trick is taking your time with the process. It's tempting to want to get your ads launched as quickly and efficiently as possible, but you have to check the following for the best chance of running an effective campaign…
Localization
In Malaysia and Singapore, English is widely spoken as a result of British Colonial rule. This has created a unique opportunity for businesses looking to target both markets. However, business should consider the vast majority of the population that speaks Malay and Chinese. So you can enter the market with English landing pages and ads, but it's better to have localization in other common languages to maximize your profits.
Payment Methods
How are the customers of iGaming websites/platforms paying in that region? Typically, the more local payment systems that are connected to the platform, the easier it is to encourage conversions. There are many ways for players to make payments online. One of the best options is for players to use Internet banking systems offered by their local banks, which allow them to deposit and withdraw their money without incurring fees.
Minimum Deposit
Players will pay a minimum deposit to be granted access to all of the features and games on a particular website/platform. Usually, it depends on the payment system itself, which varies from platform to platform. In Malaysia, it begins at 10 MYR, which is approximately 2 EUR.
Multi-Device Platform
Today, most users are using mobile devices for their gambling endeavors. This is partly because most of the younger generations are doing it this way, and partly because the system works better that way. Mobile devices outperform desktop devices, and many games and databases are designed to fit a mobile format. Overall, mobile apps are growing exponentially in popularity, which you can see in the case study linked.
Due to this, your affiliate marketing goals must reflect this. Always design your ad creatives with the mobile format in mind, especially for the goal of iGaming conversions.
Case Study
And now let's move on to the practical part. Here is our case study kindly provided by our media buying team. They know better than anyone what works and what doesn't when it comes to TrafficStars. So we give them the floor.
Offer
We promoted a well-known iGaming offer in Malaysia and Singapore. This is a trusted brand endorsed by celebrities. Since most users have already encountered this brand, the level of trust is higher, and with it the percentage of conversions. Fame and trust in the brand increases the conversion to registration and, ultimately, to the deposit.
Moreover, the product has several significant benefits for players, like a bonus, low minimum deposit, large selection of games, adapting website for mobile devices as well as mobile apps for iOS and Android, etc. High-quality product is also greatly affect the conversion rate.
The casino payouts for the first-time deposit are the following:
Malaysia - $15
Singapore - $25
Launching ads
We targeted mobile banners in 300x250 and 300x100 sizes, as they bring over 90% of all traffic. Also we excluded proxy traffic to exclude non-residents.
There are 3 ad campaigns for each GEO:
RON traffic
xHamster
Prime
Separating ad campaigns by audience type, you get control your campaign more precisely. This way, you can clearly understand what brings more conversions, CTR and effective bid.
Pricing model - recommended CPM.
Optimization
Right away upon launching the campaigns, we added the Optimizer.
The following rules were set:
#1 This one blocks spots with too low CTR.

#2 This rule increases a bid by 10%, if there is at least 1 lead and eCPA is less than 1.5 (lead cost).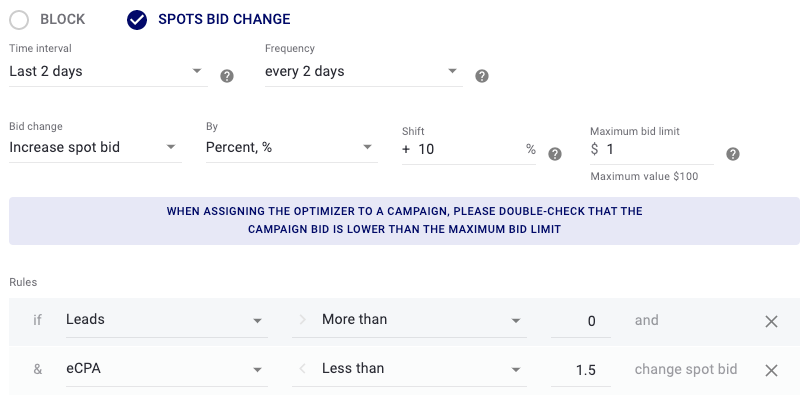 #3 And vice versa – if the eCPA is higher than 1.5, then decrease the bid.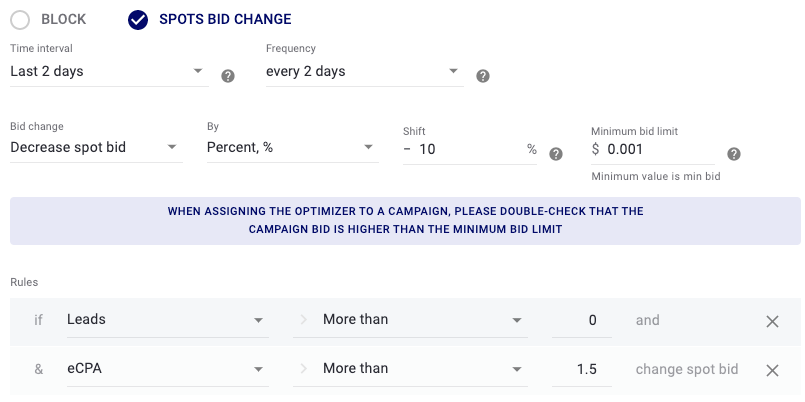 #4 The following rule blocks ad spots without registrations for 30 days. 6 is the lead cost multiplied by 4.

#5 And the last rule blocks spots without deposits.
60 is the payout per FTD (first-time deposit) multiplied by 4.
Accordingly, for Singaporean campaigns, this value is 100, and 10 for leads.
The Optimizer saved much time on blacklisting, bid optimization, and blocking ineffective ad creatives. So you just need to occasionally check that the campaigns are working smoothly and refresh ad creatives periodically.
Creative approaches
We have tested dozens of ad creatives and several pre-landings, for example:
Live casino, slots and poker games
Welcome bonuses
Limited time free bets
"Spin the Wheel" promotions
Tournaments
Promo of casino features: VIP program, cryptocurrency payments, safety, etc.
Success stories of Jackpot winners

Approaches with tournaments and showing the gaming platform benefits (safety, fast payouts) have shown the best results in Singapore. While success stories have shown the best performance in Malaysia. Average CTR was 0.11%. The highest CTR - 0.9%
Outcome
Period: 17 September 2022 – 17 February 2023
Spent: $15857
Net profit: $6408
ROI: 40.4%
Here are the stats for the 3 months.


As you can see, the Singaporean ad campaigns generated more revenue through higher payouts ($15 vs $25).
There is no correlation between audience type and ROI: RON as well as Prime can be profitable.
This statistic also shows that both banner sizes can perform well.
This all proves that any offer needs to be tested. It is impossible to predict exactly what will bring more profit.
In fact, banner ads work great for iGaming promotion. Low CPM coupled with animated images brings good results.