GEO: India
Ad format: Banner 300х250
Period: September 30 - November 2
Spent: $1622
Profit: $3330
ROI: 105%
The Indian economy is growing rapidly. It's the second largest online market in the world, behind China. More and more people are getting access to the Internet. Therefore, e-commerce and other niches, including iGaming, show strong growth.
Unlock the secrets to effective promotion of a sports betting offer targeted at India with our affiliate marketing case study. Dive into the realm of promotion strategies for betting websites, discovering invaluable marketing tips for betting site promotion in the Indian market. From nuanced promotion strategies to insightful marketing tips, this article is your go-to resource for elevating your game in the dynamic landscape of sports betting promotion in India. Whether you're a seasoned marketer or a newcomer, gear up to unravel the strategies that can set your betting site promotion apart in the vibrant and competitive Indian market.

There are over 140 million people in India who bet regularly.
Why do sports betting become so popular? There are many reasons. This is primarily due to sports passion and the desire to make a lot of money easily. Secondly, it is caused by the influx of new Internet users, especially young people, which are more likely to take risks. Also, only 47% of individuals have access to the internet nowadays. That is why the online gambling industry is expected to grow by 20% every year.
The Indian sports betting market is worth $90 billion and is expected to grow by 20% every year.
In addition, bookmakers have made user-friendly mobile apps and integrated with popular online payment. Thus, there are no problems with registration or account replenishment, and users can place bets anytime and anywhere.
How to make money on sports betting as an affiliate
In theory, India stands as an optimal GEO for promotion of betting affiliate offers, but how does it fare in practice?
Enter Abhinav Khanna, who  decided to share his experiences, aiming to inspire budding marketers. Join him as he explores the practical nuances and imparts insights on 'How to promote a betting site effectively'.

The offer
A couple of words about the offer. Pin-Up is an online casino and betting platform. This is a relatively young company founded in 2016, operating under a Curacao license. They have an official affiliate program. They accept all kinds of traffic, and have pretty good promo materials, like pre-landers and banners. Before advertising an offer, I carefully check it. Pin-up pleasantly surprised me, the gaming platform has a number of advantages for players:
A wide range of bets on sports events with Pre-match and live markets.
A lot of slots, table games, lotteries, live dealers and much more.
Good bonuses for new players
Supports all popular Indian payment systems.
Low minimum deposit INR 100.
Mobile app for Android
My account manager at Pin-Up offered me to start with 40% RevShare model. So, I decided to test it.
My first campaign
TrafficStars have a huge traffic volume for India at good rates. CPM starts at $0.002.
My manager advised me to test banner 300x250.
Here is the targeting of my first campaign:
GEO: India
Devices: All
Languages: All
CPM: $0.002
I uploaded 3 banners:

Also I used ready-made Pin-Up pre-landers: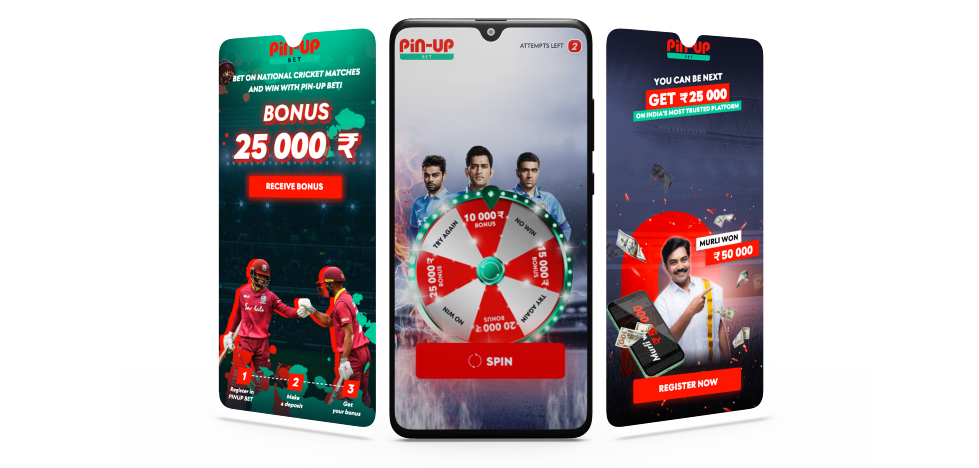 First week results
First results didn't impressed me. First 4 days were a total disappointment - zero deposits! Some days my balance in Pin Up was even negative.
Spent $252.6 Earned: $40.90
Then I decided to look at the statistics to optimize the campaign. I found out that the most part of registrations come from mobile devices and English-speaking users. Also, mobile traffic shows the best CTR - 0.06%
There is no clear winner among the banners, all show approximately the same CTR.
Optimization
In the next campaign I've set up the following targeting:
GEO: India
Devices: Mobile
Language: English
CPM: $0.002
Frequency capping is set to 2 impressions per user.
Also, I added the Optimizer to block unprofitable ad spots.
The optimization had borne fruit. I got a significant increase in the number of registrations for the same spending on traffic. I also added a couple of new banners to the campaign.
The outcome
Well, let's sum up. There was $3330 in my account for a little more than a month. I am very pleased with the result and the traffic quality. Despite the fact that the conversion to registration is quite low, 1 out of 10 registered players made their first deposit and many make repeated deposits. Most of the profits come from active players who bet large sums and lose. I was lucky to find such high rollers. So, I will continue to receive commissions from referrals even if the campaign stops.

Here is TrafficStars stats by devices. As you can see, the share of mobile traffic is over 90%. I excluded tablet and desktop devices after the first week.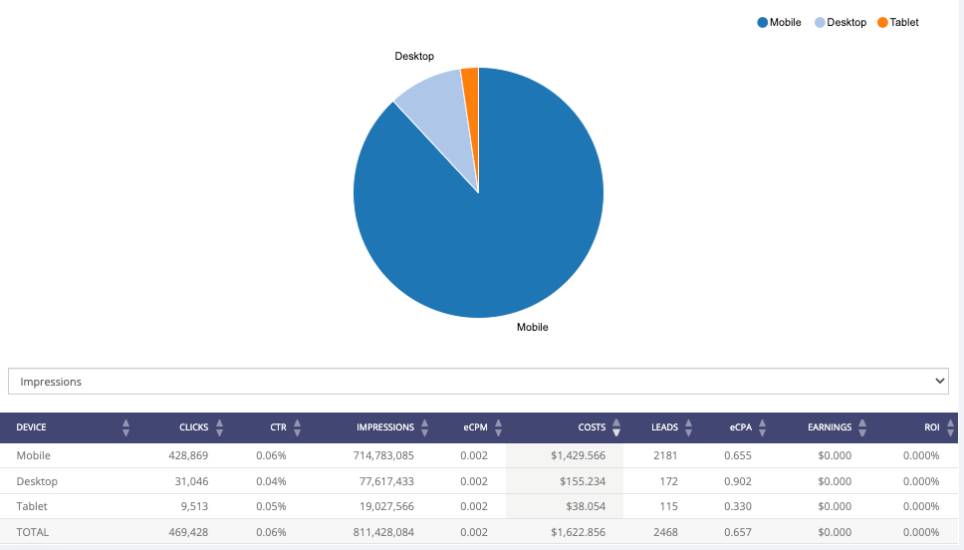 And finally, a few tips:
💡 If you want to try promoting iGaming offers, you should have in your pocket at least $500. Since it takes time for optimization and tests.
💡 If you work on RevShare model, then be patient, the profit may not come immediately.
💡 Use the Optimizer to save time and budget on blacklisting inefficient sources.