Showing the most relevant ads to website visitors is a key factor for the success of an advertising campaign. At TrafficStars, we understand that it's not just about effectiveness; it's also the foundation of a mutually beneficial partnership between advertisers and publishers.
By using various targeting options such as country, language, device type, and other parameters, we ensure precision in ad delivery. This helps boost the conversion rates for advertisers, enhance the user experience for website visitors, and increase revenue for resource owners.
In this article, you'll discover how targeting based on keywords and categories can enhance the effectiveness of your advertising campaigns.
Why is this important?
Targeting based on categories and keywords allows you to:
Increase CTR and conversion: Ads that align with users' interests will receive more clicks, and the website's conversion rate will rise.
Decrease CPC: By displaying ads to a more targeted audience, the cost per click decreases, leading to increased return on investment (ROI).


Category Targeting
There are 2 main categories: Adult and Mainstream. They, in turn, combine sub-niche categories, which you can find while creating an ad campaign. 
 Select the categories that best match your target audience. By default, all categories are included, except for the Gay and Shemale/Tranny. This is done for the convenience of advertisers promoting Straight dating offers.

Adult Categories
Targeting by niche categories will be beneficial for advertisers promoting dating in specific categories (BBW, Granny, Mature, Japan, etc.) and advertisers with very specific offers. For example, audiences in the cartoon category will be most interested in hentai games or hentai videos. If you are promoting VR videos, then Virtual Reality is an obvious choice.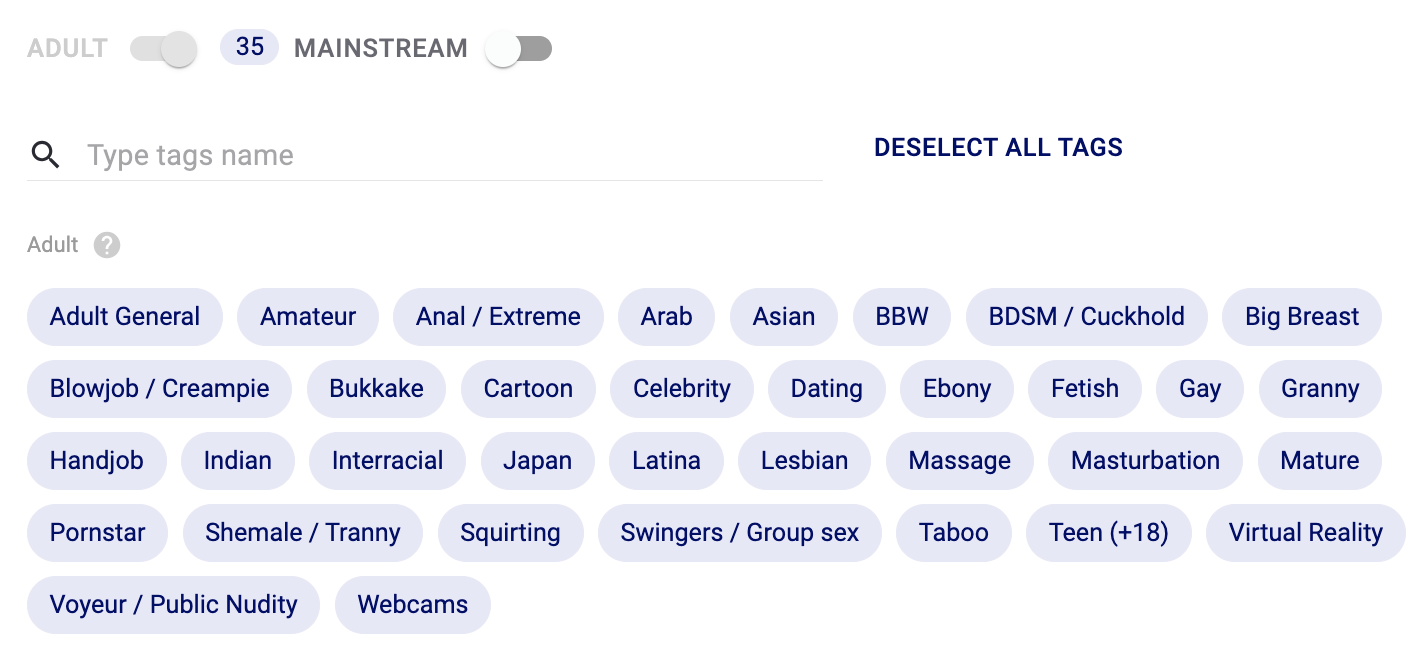 Mainstream Categories
As you can guess, sites unrelated to adult content fall into this category. Targeting specific categories makes sense only if you have a narrowly specialized product. 
For instance, the Manga/Anime subcategory would be an ideal choice for promoting anything related to anime: manga subscriptions, anime games, anime merchandise, etc.

Keywords Targeting
Targeting by keywords in TrafficStars operates on the same principle as targeting by categories. We categorize each page of the publisher's site by gathering keywords (more details below), and your ads are displayed on relevant spots.
Unlike category targeting, keywords provide broader possibilities, as you determine the necessary words or phrases yourself. This type of targeting is particularly suitable for advertisers with narrowly specialized products.
💡 Keyword targeting is located in the "Advanced" section at the first stage of campaign setup.
For example, you can enter a model's name,

and your ads will be displayed on pages featuring her videos.
How keyword collection works
We employ several methods to gather keywords from publisher pages:
#1 URL
The last segment of the URL address—the part after the last "/"—is also known as the URL slug. For example, with the link
https://xhamster.com/videos/get-out-of-my-ass-people-are-watching-xhoFNsR
our script takes the last segment, breaking it into the following keywords: get, out, of, my, ass, people, are, watching, xhoFNsR.
#2 Browser Tab Title
We also extract keywords from the title of the browser tab. For instance, if a user visits the page 

https://xhamster.com/categories
with the title "Porn Video Categories and All Sex Niches - xHamster", we extract the following keywords: Porn, Video, Categories, And, All, Sex, Niches, xHamster, Categories.

#3 Meta-tags
 The site's code may contain meta tags with attributes "name=description" and "name=keywords," and we take their content as 

#4 Script
Publishers may independently provide us with a set of keywords through an advertising format script. The scripts may vary, but the algorithm remains the same.