In this article, you'll find what is push ads and how in-page push notifications ads work. As well as, the advantages and differences between these similar ad formats. Check it out!
What is Push ads?
Classic or Web Push ads are notifications that look like a pop-up. After clicking on the message, users are redirected to the advertised site. Push messages are delivered on a user's desktop or mobile device at any time regardless of whether the site is open or not. Opt-in is required to send the message to the user. A push message is displayed differently depending on the user's browser, device, and OS. Such browser push notifications are not supported for iOS.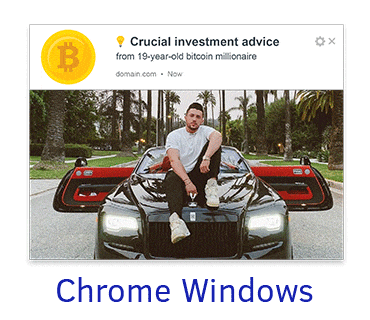 What is In-Page Push ads?
As the name suggests, this is also a push message that looks like a pop-up. The message is displayed on the publisher's website. In fact, this is a banner that mimics the classic push. In-page consists of an icon, text, and a short headline.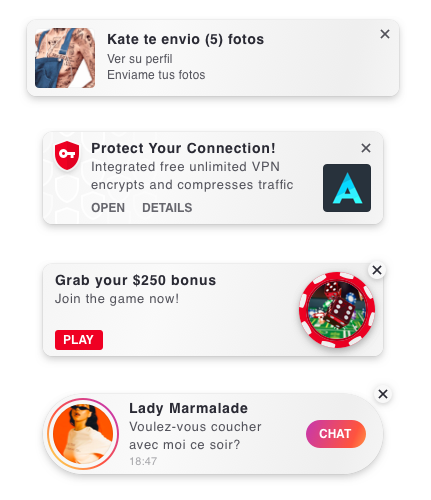 With our custom skins, In-Page push looks more natural, colorful, and vibrant. These skins are designed for the most popular verticals: dating, webcam, iGaming, software, and mobile apps. A fresh look helps advertisers to increase CTR and conversion rate eventually. These skins will be used automatically.
What's the difference?
Now let's find out which is better: a Classic web push or In-Page push ads? At first glance, these 2 ad formats look the same, but they have a number of differences.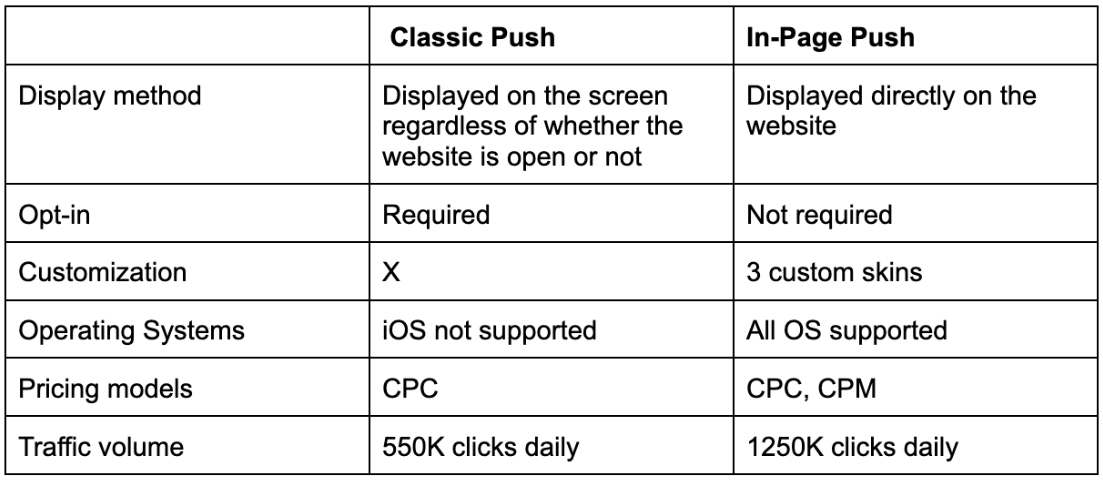 As you can see, each ad format has its own advantages. But both of them are non-intrusive, have a high CTR, and are suitable for various verticals.
Average CTR
Absolutely, a high CTR does not equal a high profit. However, it plays a major role in CPC campaigns. As you might know, any CPC-based ad campaign goes through a test period. It's needed to evaluate CTR and define eCPM. In a nutshell, high CTR is a win-win situation for advertisers and website visitors. Since if a user clicks on an ad, then he is interested. Our priority is advertising that is relevant to users.
Across all GEOs

Traffic volume and TOP-10 GEOs
With TrafficStars you can get a decent amount of push ads, over 100 Million impressions daily WW. Here is the list of our top countries by traffic volume:
🇷🇴 Romania
🇺🇸 United States
🇨🇳 China
🇹🇷 Turkey
🇸🇳 Senegal
🇸🇦 Saudi Arabia
🇨🇦 Canada
🇮🇩 Indonesia
🇱🇧 Lebanon
🇵🇱 Poland
How not waste your budget running push ads?
Optimizer
First of all, use our in-house optimization tool. Create rules that automatically block underperforming ad spots or adjust campaigns bid.
Frequency capping
Set the frequency limit to 1 impression per day.

Fresh users
Target recently subscribed users.

Separate ad campaigns
Create separate ad campaigns for RON and Premium traffic types. Also separate campaigns by device, as the bid and CTR can vary significantly.

Bidding
Start with the minimum bid. It depends on the GEO. Here are the minimum CPM rates: Tier 1 - $0.01, Tier 2 - $0.003, Tier 3 - $0.001. Raise the bid, if you need more traffic.
Budget
Set an overall or daily budget limit. The minimum daily budget is $25.

Ad creatives
And, perhaps most importantly, is the crafting of enticing ad creatives. Use a catchy image and text to convince users to click the notification.
💡 Test at least 5 ad creatives in the campaign.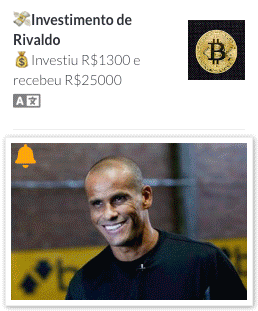 Check out more ad creatives with Anstrex spy tool. Uncover the secrets of winning ad campaigns!
What to promote
Push ads is versatile. It fits almost any niche. But considering our traffic, the following verticals show the best results:
Dating and webcam
Software
Sweepstakes
E-commerce
Surveys
Mobile apps
iGaming