Intro

You might be surprised, but an increasing number of major companies working with mainstream traffic are considering adult websites (such as xHamster, Pornhub, Spankbang, Eporner, and others) as an alternative marketing medium and a source of additional monetization. With increasing competition, mainstream brands are looking for new sources of traffic and may also use adult sites for provocative marketing strategies. Building a brand in the adult industry
We asked ourselves: Is there a difference in audience between xHamster, YouTube, or Facebook? This article will answer this question and explore cases where mainstream products have been advertised successfully via adult traffic. This will demonstrate the revenues generated from adult advertising and reveal why the topic is gaining more attention from advertisers in traditionally mainstream verticals.
"We started our research seeking men in their twenties who had never consumed pornography. We could not find any at all!" Dr.Simon Lajeunesse, University of Montreal"
Fun Facts About Visitors of Adult Sites
To get started, take a look at five facts about the industry:
#1 30% of all data transferred across the Internet is porn.
#2 All porn sites get more monthly visitors than Netflix, Amazon, and Twitter combined.

#3 Four of the top 50 most popular websites in the world are in the adult category. Be sure that all your current and potential clients are visiting adult sites.
#4 The average time users spend on a porn site is 12 minutes.
#5 The average age of adult sites visitors is 37 years.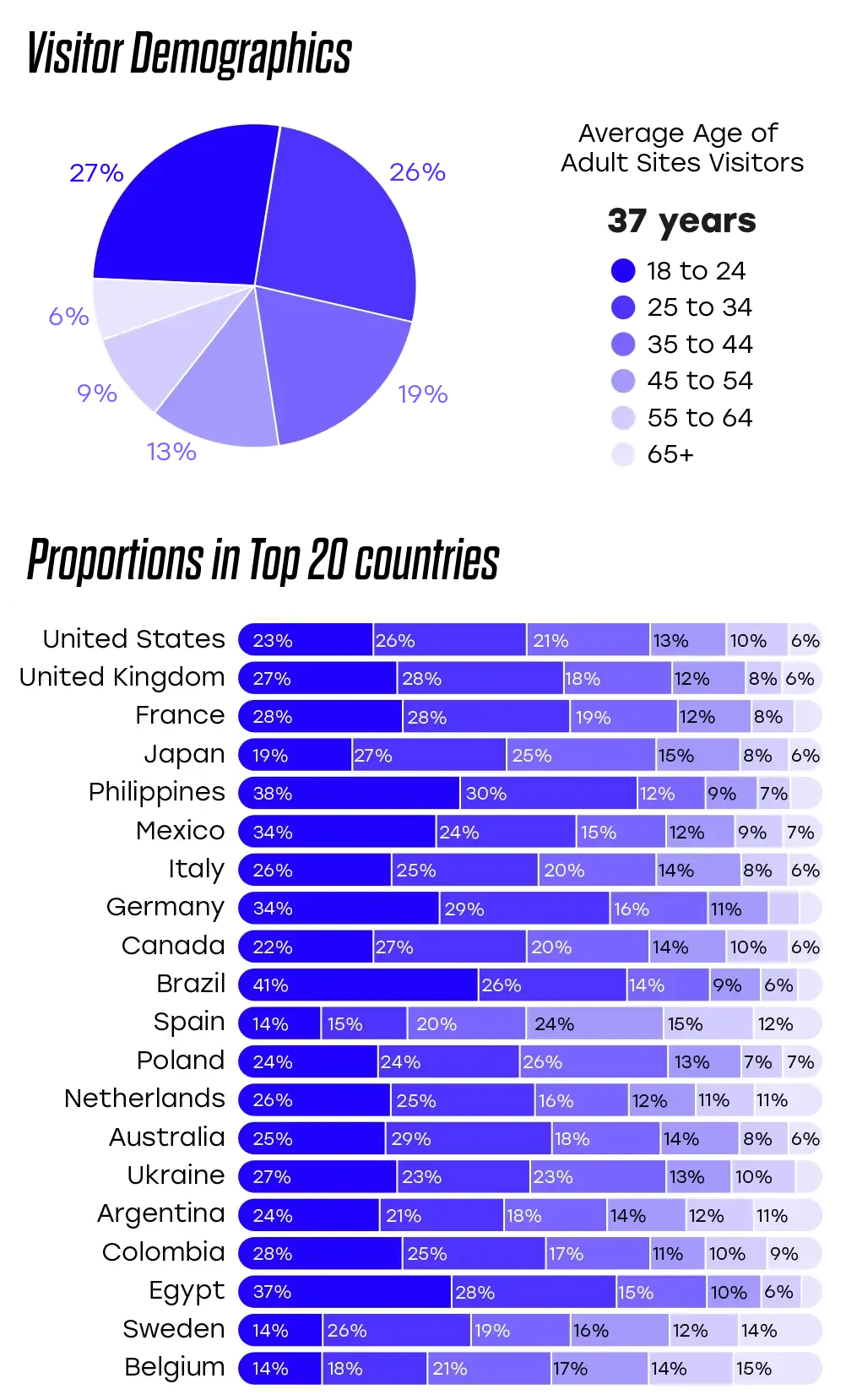 Two-thirds of porn viewers are men, and one-third are women.
Approximately half of the visitors of porn sites are women in the Philippines, Colombia, Mexico, and Argentina. 29% of the viewers in Canada and the US are female, while Germany stands lower than the other 20 countries, with only 26% of visitors being female.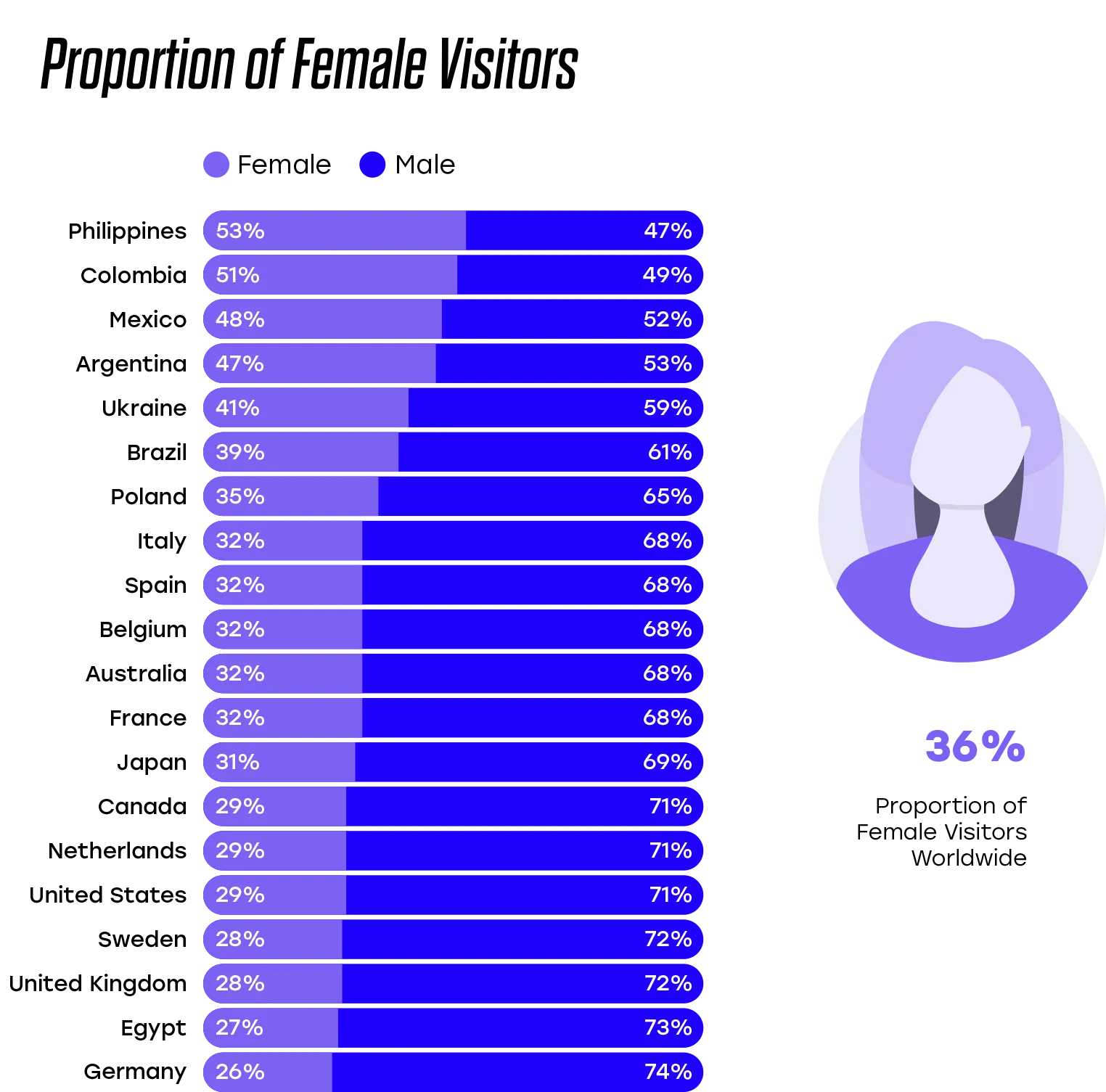 A survey among 2000 Americans revealed that 63% of men watch pornography at work, with 38% doing so regularly.
The most common explanations and reasons for this behavior were related to:
Employees seek opportunities to relax or alleviate the stress accumulated during work (45% of respondents).
Searching for motivation among those experiencing burnout (45% of respondents).
Curiosity (10%).
Using it as a means to fantasize about sex, which is generally unfeasible in a workplace scenario. (12%).
These are all fairly standard reasons.
The astonishing revelation was that 25% of respondents admitted to watching adult content for entertainment during their lunch break at work, and compartmentalized it in terms on par with YouTube and TikTok. This indicates that during this particular time, people's minds are relatively "free" to absorb any information related to real estate, financial products, or food/clothing delivery.
Why Are More and More Advertisers Opting For Adult Traffic?
If any doubts still linger, the information presented in the section above should reassure you that your current and potential customers are indeed visitors of adult sites. Moving forward, we have endeavored to compile the advantages and disadvantages of evaluating adult traffic from a business perspective.
Let's begin with the drawbacks that advertisers encounter when purchasing adult traffic:
1) Limited user data: Most networks only provide information based on the user's IP address and user-agent, making it challenging to accurately determine the user's gender, age, and interests.
2) Media channel restrictions: Certain traditional media channels, such as television or radio, may prohibit advertising of adult content, limiting the available channels for promotion.
3) Reputational risks: Associating a brand with adult content can impact the reputation of a company or product. Some individuals may hold negative attitudes towards companies advertising on sites with adult content, especially among audiences over 54 years old.
4) Unique creatives: Advertisers in the adult industry must exercise particular caution when creating and placing advertising materials to avoid unintended associations. It is advisable to adapt landing pages and creatives, which will be discussed in more detail in the third section of this article.
Let's move on to the obvious advantages:
1) Low Prices Adult traffic can be quite cost-effective, especially compared to Google and social networks like Facebook, Twitter, and Instagram. The cost per 1000 impressions can differ by 10 times! Minimum CPM starts at $0.001. It means that you can get 1 Million impressions just for $1! (if your CPM is $0.001).
💡 You can get 1 Million impressions just for 1$
But this only applies to Tier 3 GEOs. For Tier 1 GEOs CPM usually starts at $0.1. An effective CPM depends on the selected publisher, targeted options, and competition among advertisers. The cost of US mobile Popunder ads on Prime sites will be higher.
2) Scalability
A large amount of adult traffic is available, which makes it possible to scale advertising campaigns and reach a larger audience. In addition, you can run retargeting and thus increase the conversion rate.
3) More Flexible Advertising Rules
Adult content promotion guidelines are more flexible compared to mainstream platforms, even for advertising on premium publishers. And the moderation process takes only a few minutes.
4) Auto-optimization
Utilizing the Optimizer and auto-bidder allows for time-saving and the setting of automatic rules.
5) Media Buying Tools
The option to upload data and manage campaigns through API and seamless integration with tracking platforms is available.
Examples of Advertising Mainstream Offers on Adult Sites
Companies that embrace the talent of creative designers and marketers often seize great opportunities. It allows them to explore adult advertising as a daring avenue to generate hype and enhance brand awareness. This approach occasionally captivates the media's attention, enabling them to distinguish themselves from competitors by crafting engaging content with viral slogans or captivating video pre-rolls.
Within our pool of advertisers, we observe many advertising agencies and local brands exploring this unique advertising strategy. Through this, they harness the influential potential of brand promotion to establish more profound and meaningful bonds with their intended audiences.
Not to mention, some of the creatives make quite the impression. Scroll and enjoy our selection of funny banners we've discovered from our publishers. Note how this endeavor allows creatives to generate cheeky puns. Sold.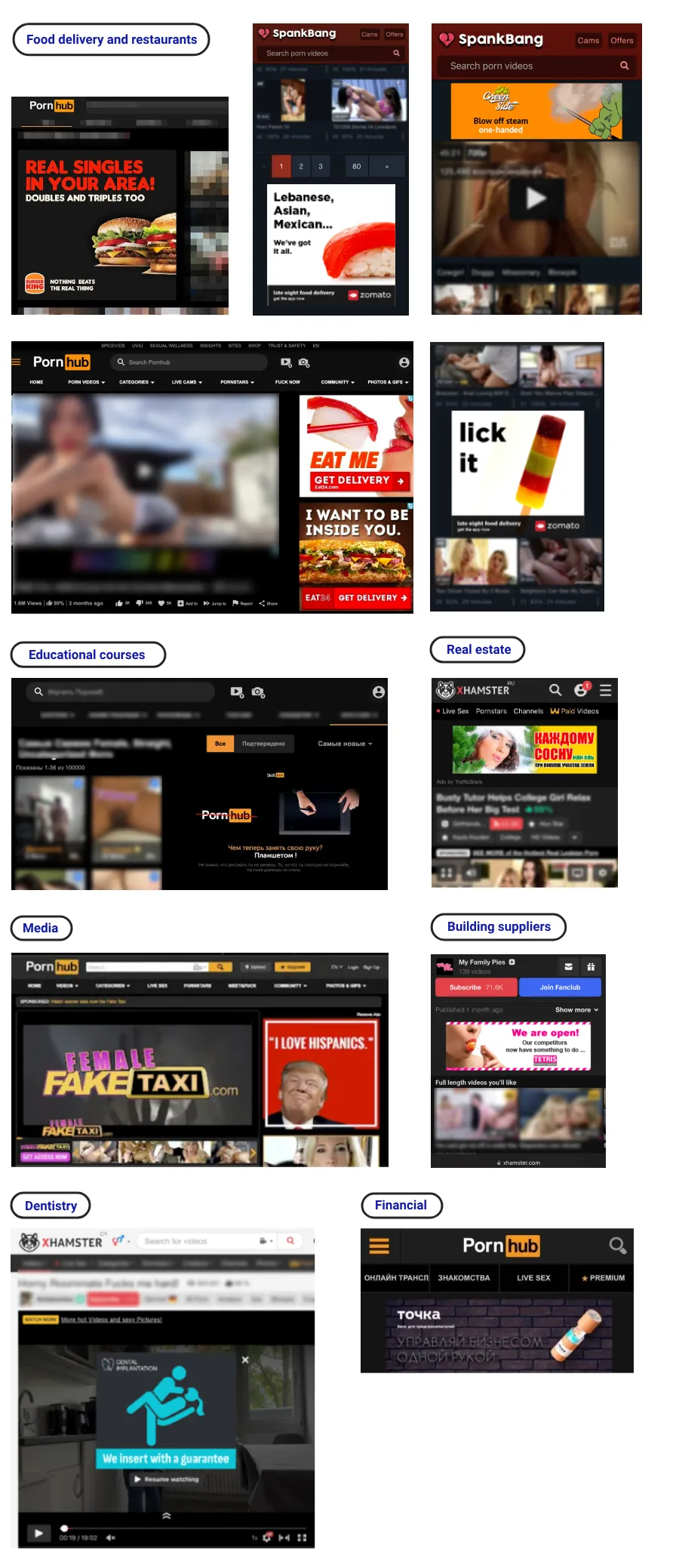 Conclusion
In summary, advertising on adult sites can offer a compelling alternative to Facebook and Google Ads, and reach an audience where many advertisers won't. Reap the benefits, too! Building a brand in the adult industry involves exploring alternative avenues for traffic as mainstream competition intensifies. Some mainstream brands may even leverage adult sites for innovative and provocative marketing strategies." Of course, it's vital to build tailored creatives and slogans that resonate with the sites' theme as well. Such an approach can result in a high CTR and a surge of conversions! You can track not only direct conversions, but also organic traffic.
Furthermore, considering the facts and the audience statistics of adult websites mentioned above, your target audience visits adult sites. Netflix viewers may claim they don't watch porn. OK, maybe they don't, but we have seen the statistics 😉. So we can conclude that every modern and progressive advertiser should leverage the power of adult advertising. The final and decisive step remains to select an adult ad network with premium traffic and top-notch functionality, like TrafficStars 💫