In the vast landscape of promotions and giveaways, mastering the art of promoting sweepstakes offers is key to capturing attention and engagement. The question isn't just "how to promote sweepstakes offers," but rather, how to do it effectively. To stand out in the digital noise, strategizing where to promote sweepstakes becomes crucial. Leveraging social media platforms, email newsletters, and dedicated websites are potent channels to showcase your sweepstakes giveaways.
Crafting compelling content that highlights the excitement of the prizes and the simplicity of participation is paramount. The beauty lies in the diversity of avenues available, ensuring that your sweepstakes promotion reaches a wide audience. So, whether it's through eye-catching visuals on Instagram, tantalizing banner ad campaigns, or collaborations with influencers, the key is to make your sweepstakes an irresistible opportunity that participants can't help but share.
The sweepstakes have been around for a long, long time and they are still alive and kicking today. This could be due to the magical combination of their high conversion rate and low cost, but if you know how to handle them, you can create high-octane campaigns and scoop conversions up like marbles. In this article, we talk all about the sweepstakes. Let's get going!
What Are Sweepstakes?
Sweepstakes are prize-oriented ads that inform the user that they have the potential to win prizes. But with this particular vertical, the focal point is "giveaway" prizes such as gift cards, Android Phones, and sunny vacations. It's a substantially universal vertical and functions very well on big formats like Facebook and other social media channels.
In order to participate, users need to…well, first, see the ad. If they're taken in by it, they must then throw in their details, including name, phone number, and email address (depending on the publisher's needs). Usually, the affiliate gets one commission per sign-up, so it's a cost-per-action situation. There is a great advantage here because it doesn't cost the user to sign up. Marketers get paid by the advertiser or merchant for their service.
It's worth noting that the commission is higher when advertisers ask for more information, provided that it is given by the user. So, if they are asked to enter their credit card details you get a higher payout compared to if you are just requesting their first name and their email address.
Sweepstakes Types and Payouts
Well, that's the overview. Now let's take a look at the types of Sweepstakes you can use and the kinds of payouts that they provide. The first two are in the "email submit" category and the next fall into "CC submit", which have different CPA requirements.
SOI (single opt-in)
SOI is a simple registration process whereby you only have to enter your contact details, such as name and number. This is the easiest offer as it is a single opt-in process but it has the lowest payout out of all of the sweepstakes offers, the payout per conversion rarely pays more than $2 per. users aren't required to pay anything to instigate a conversion, which is why startup affiliate marketers tend to go with this option, but it's cheap traffic for gradual earnings.
DOI (double opt-in)
DOI is the second most simple and is very similar to SOI except with this, there is an extra step to take. Users must confirm through their email addresses before the commission kicks in. This is done after they have entered their details and then followed the confirmation link that lands in their inbox. This two-step (double opt-in) CTA is harder to work with but surprise surprise, the payouts are higher.
CC Submit
CC submit is where the user is required to enter their credit card information and subscribe through that. There is an initial small fee for the user and then, after the appropriate period of time, they are charged the full amount. The other option is the Free Trial edition of CC Submit, which is the same except they are not charged anything in the initial conversion, but are charged the full amount after the period of time. CC Submit model is also only suitable for experienced marketers, as it requires a larger budget to launch.
With CC Submit, payouts are much higher. Each action comes with a conversion of around $20. But we'll level with you, this option isn't a hundred percent legal. This is to do with the gathering of credit card details. However, not all affiliate programs jive with it, but it is a much more profitable system.
But note that the profits are mainly dependent on GEOs. Affiliate networks tend to fork more money out to users based in France, Japan, German, and other Tier 1 locations. Generally, you want to aim for places with less competition for the cheapest traffic, which will maximize your profit.
How to Promote Sweepstakes
Sweepstakes require some patience for marketers, but the vertical is effective at working in different forms such as Push, Popunder, Full-Page interstitial ads, and video pre-rolls.
Push
Push ads, whether they come in the form of web push or In-Page, work very well with Sweepstakes. This is because they allow marketers to implement their ads straight to the user's devices. A good strategy is to generate a number of creatives to test the waters. Five or ten would be a good ballpark figure to start with. This, combined with precision targeting, will launch a campaign that is likely to land some good profits.
Phrasing and terminology are important and should be considered carefully. For instance, "You get the chance to win a new Android device!" is effective as it uses precise lexicology such as "win," and when this is mixed with "Don't Miss Out," or "Free", you can land a good impression. Phrases like these are common but remember not to over-promise or over-sell. Ads that do this are both misleading and prohibited.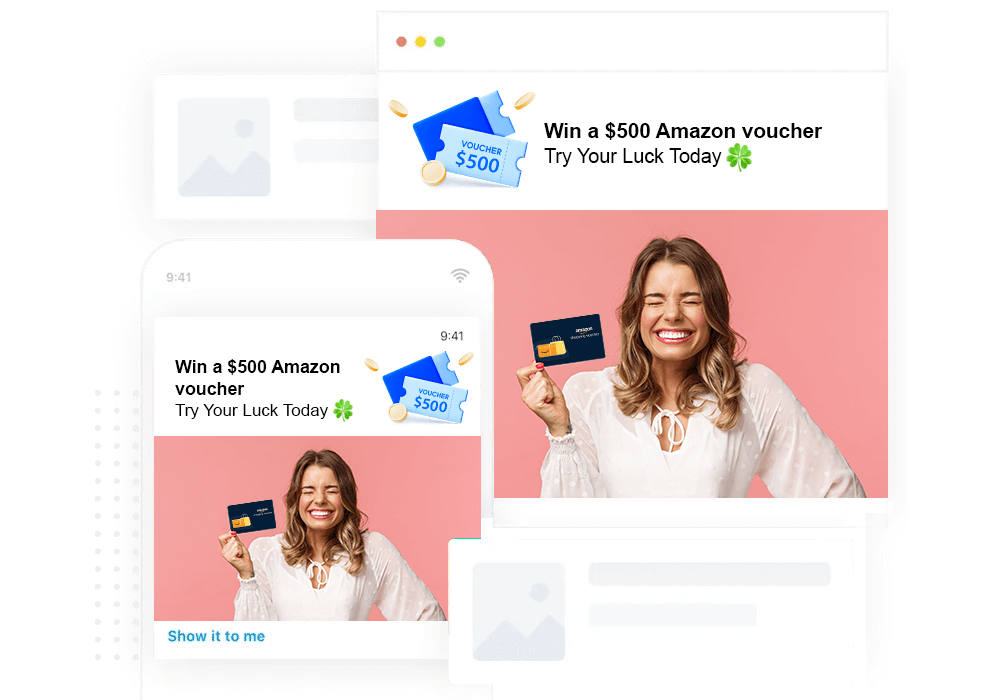 Popunder
The convenient thing about Popunders is that you don't need to build creatives - they are simple enough to make. But the landing page is where you should focus. Also, a good way to hook your users is to place customized surprise boxes, or even questionnaires on the landing page, that are designed to the specifications of the product you're recommending. As the user answers the questions they gradually become more invested in the process, feeding you information more readily.
Another thing - ensure that your website is transferable to mobile mediums and is mobile responsive. The rate of mobile traffic is on the rise and is said by many to be more common than desktop. According to ExplodingTopics over 60% of internet traffic comes from mobile devices. But be aware that some sweepstake offers will only accept traffic from certain networks - this is easy to find online.

Full-Page Interstitial Ads
One of the top dogs for developing leads is full-page interstitial ads, which are fantastic ways to leave bigger impressions on users and generate solid click-through rates. Interstitial ads are full-page interactive ads that cover the surface of their host site or app. They appear between content (hence interstitial) and create natural transition points, such as between activities or game levels.
When it comes to the sweepstakes, the best strategy with interstitial ads is to use your creatives to generate engaging content that is likely to draw users into the content. One of the strategies commonly used with this format is the "wheel of fortune", which picks interactive ads from a selection and routinely shows one after another after the set time. This way, you don't need a complex system, you just spin the wheel and promote the prize draw!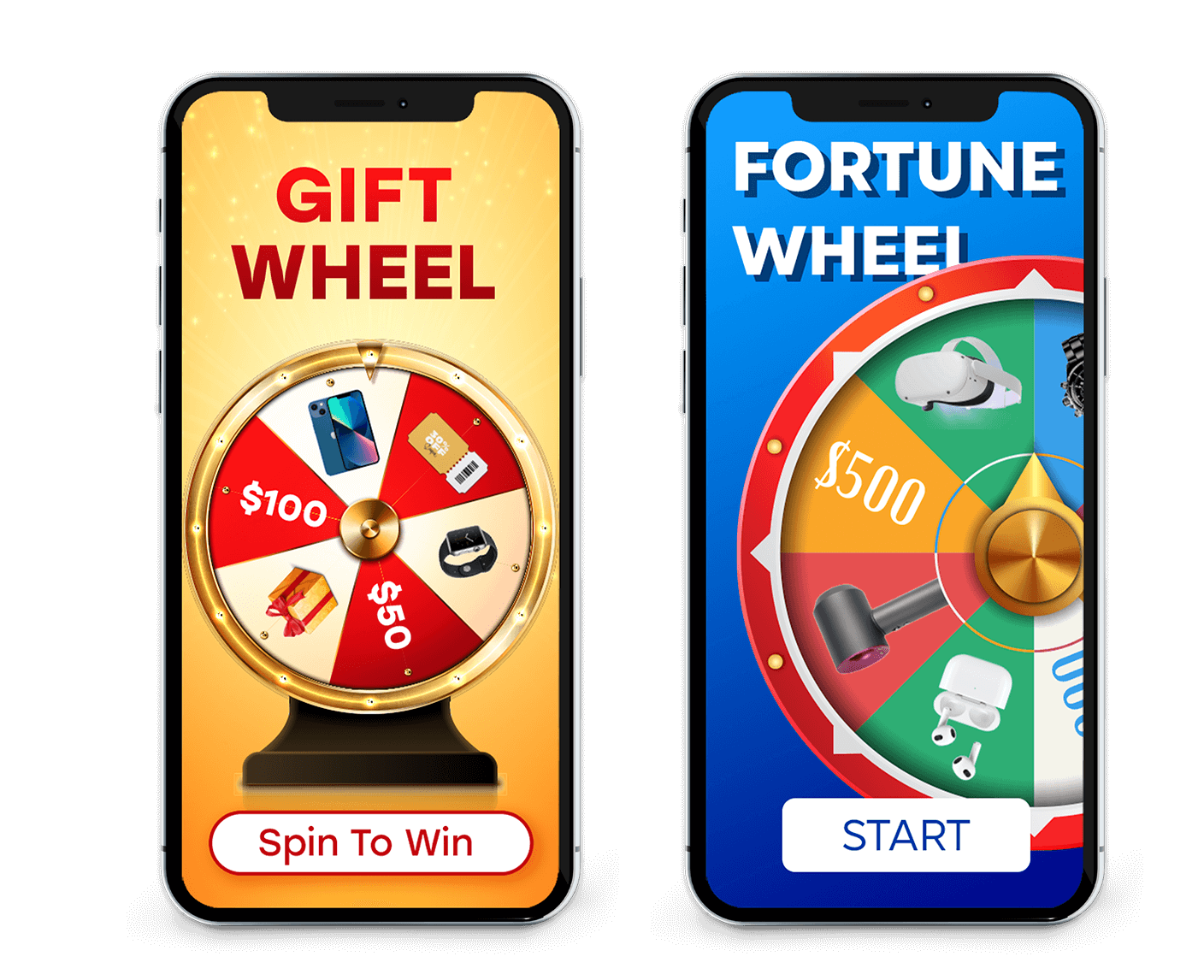 Video Pre-Rolls
Video pre-rolls can be used to create leads, as they are more effective than they are given credit for. This is because the video medium is such an emotive storyteller, by which you can effectively showcase the happy winner of a previous competition, which you can present as a life hack. Everyone loves life hacks.
The trick with this format is to create a convincing presentation of the previous winners. Use your creatives to invent goofy, emotive ads that show the potential for winning with your viewers. Use a wide variety of formats (VAST, VPAID, linear), as well as tryout video sliders, native rolls, as well as pre-rolls.
If you have yet to try out the video medium, there's no time like the present, not just for this medium, but all advertising formats.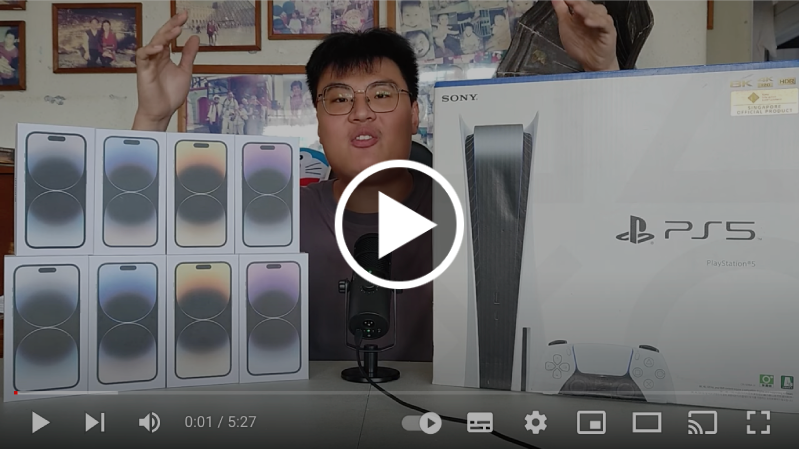 Conclusion
When deciding how to run sweepstakes verticals, there are many ways to advance. But, it's one of the most effective verticals to start with if you are just getting going, and a great addition to seasoned affiliate marketers. Plus, it's hot, tried, and tested vertical. As long as you study the best-converting sweepstakes, bring unique creativity and vision to the project, and use highly targeted GEOs, then your campaign stands a great chance of generating leads.
Affiliate marketers looking to optimize their impact in promoting sweepstakes offers should embrace versatility in their approach. Experimenting with different ad formats, such as visually compelling banners or engaging video content, is crucial when aiming to effectively promote sweepstakes online. Moreover, exploring various angles in the promotion, such as emphasizing the excitement of winning, the exclusivity of the prizes, or the simplicity of participation, ensures a well-rounded and appealing online campaign. In the dynamic world of affiliate marketing, the key lies in adapting strategies to discover what resonates most effectively with the target audience, ultimately enhancing the success of sweepstakes promotions conducted online.

Remember to use a tracker to monitor your campaign, as this will give you practical, useful information about the campaign, including the age ranges that it resonates the most with, the mediums (mobile, desktop, etc) where it converts the most amount of leads, and which GEO is responding to your ads. This information will show you how to sharpen your future campaigns and gain even more profit.