Contents
If you are not yet familiar with the utilities vertical, fret not! It's a relatively new endeavor. But it's also one of the rising stars when it comes to verticals in the affiliate marketing world right now. What's more, ad networks like TrafficStars exist, and can connect affiliates with a wide range of browsers across a broad multitude of GEOs - in short, platforms like these are a great place to promote utility apps.
In this article, we go over what it is, the various ad formats and creatives that jive with it, the top GEOs, and even some top-tier advertising policies relevant to it. Let's go!
The Utilities Vertical: What Is It?
The word 'utilities' is probably drumming up mental images of electric bills and waterworks (everyone's least favorite 🎩 Monopoly cards), but that's not what the vertical is. Rather, it's an umbrella term referring to all of the software tools that facilitate the protection, efficiency and organization of files, as well as the removal of digital threats. To be more clear, we'll take a look at the various offers for the utilities vertical.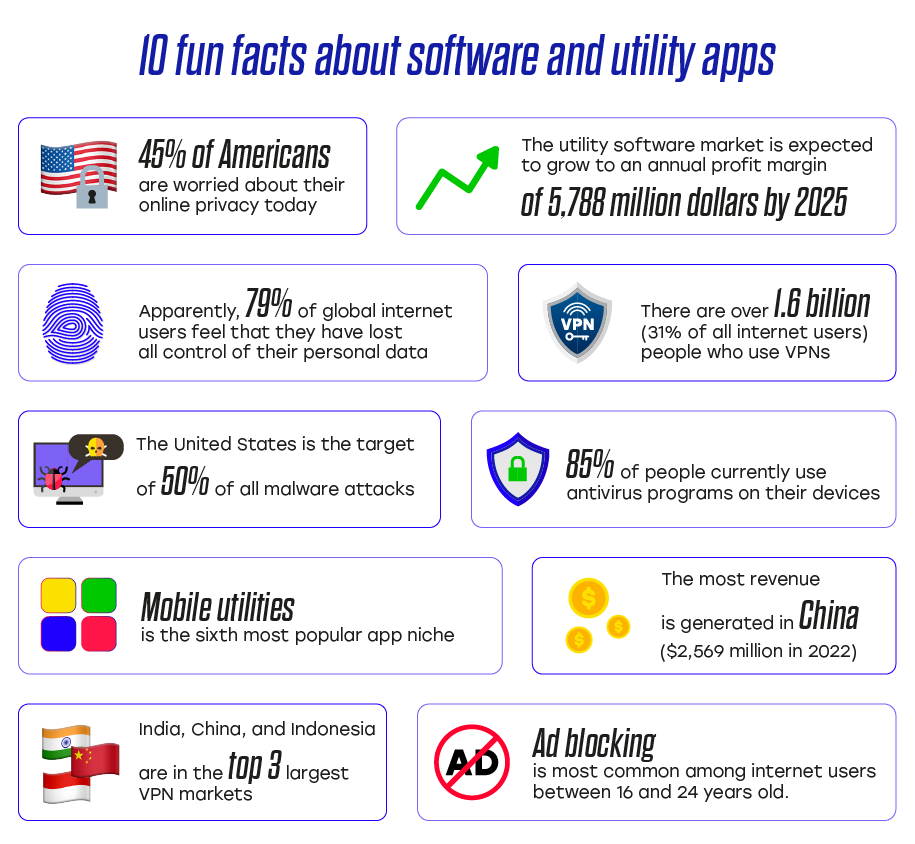 Types of Utility Offers
If you are looking to promote and create brand affinity for an app or program that falls specifically into one of these categories, then you're in luck, because the utilities vertical is all yours.
Antiviruses
Antivirus software is designed to (would you believe it!) prevent and detect viruses. They have been around since the dawn of computers, and are going nowhere any time soon.
VPN
VPN stands for 'virtual private network' and establishes a protected network connection when surfing public networks. For instance, the team at a separate office can access the office's mainframe with a VPN. They are also used to bypass blocking sources, such as the browsing options for international regions.
File managers
File managers are used to provide user interfaces to their users, so that they can organize their files and folders. DropBox is an example of this.
Ad blockers
Ad blockers are software-integrated systems that block ads. Cryptic, isn't it? They can do it for streaming services, and webpages in general. Hmm, this one sounds like a bit of a catch 22.
Cleaners
Cleaning apps remove viruses and other unwanted virtual parasites, and comes in the form of inventions such as 360 Cleaner, Norton Clean, and Easy Clean.
Memory boosters
These are used to boost the running speed of Android devices by optimizing and cleaning your phone's memory.
Battery savers and others
Apps like battery savers are integrated in numerous devices, often mobile ones. They are software used to help preserve your battery life.
Ad Formats and Ad Creatives
There are a number of ad formats that the utilities vertical works well with. Moreover, there are other tactics, creative and practical that you will want to take into consideration when you are planning your CPA-driven utilities vertical strategy. Here are a few:
Push Ads
Push ads have many benefits To be more specific, in-page push notifications are the most optimal. They work particularly well with this vertical for many reasons, one of which is that they are highly malleable. For instance, it is much easier to suggest a utility without coming off as direct or aggressive if it is presented as a casual, friendly message, or even a helpful warning against malware or potential virus risks.
Another benefit is that both the push and in-page push ad formats have been designed to resemble system notifications, and so promoting VPN offers and other software offers is ideally matched.
Classic Push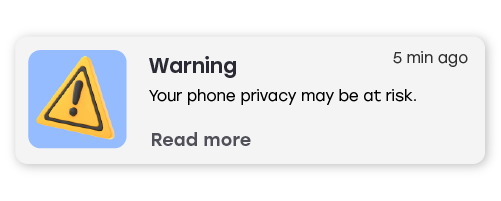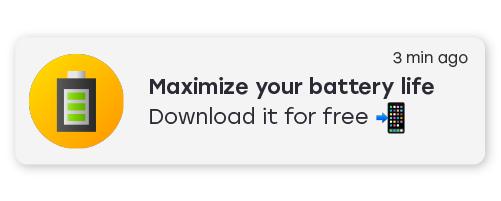 In-Page Push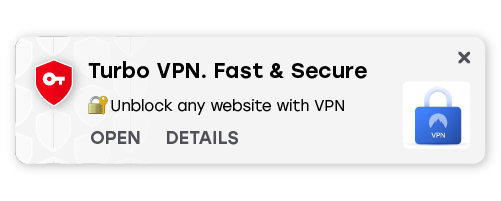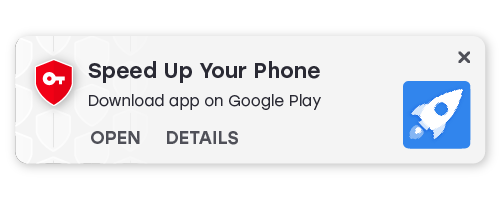 Popunder
Popunders are one of the easiest ways to launch ads, because you don't need ad creatives to build them. Also, advertisers will promote browser extensions through this format. In fact, the popunder format is the best choice when it comes to promoting various desktop browser extensions. Take Google Chrome for an example. It is the most popular browser today (global market share of 65.84%, meaning six in ten people use it for their browsing needs). A reliable extension of G Chrome is the Google Chrome Extension. Users trust it, as it's a branch of Chrome, and are therefore confident that it won't harm their devices.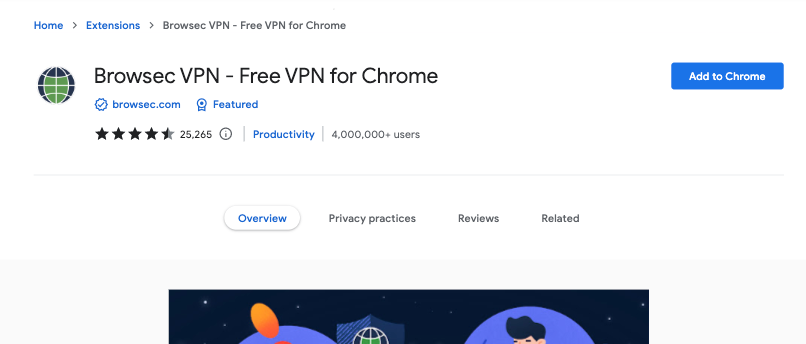 Full-Page Interstitial
Unlike the popunder, this format comes to the fore. Due to this, Interstitial has a high click-through rate, ensures brand recall, and drives more conversions eventually. But to not to waste your budget, you need to come with the right landing page.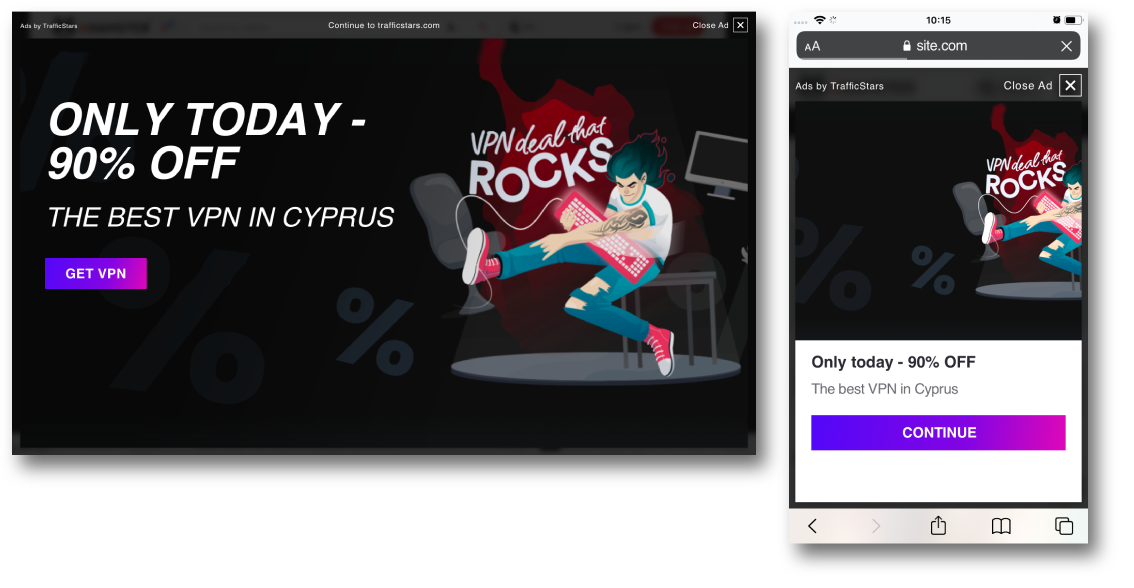 Keep the text short. Come up with 1-2 sentences that would grab the user's attention. Tell the user what to expect after clicking on the ad.
Here are some ideas for call-to-action buttons that will motivate users to click:
Get my offer
Apply
Buy now
Get 50% OFF
Download
Get access
Get it for free
Click here
Subscribe
Banner
By launching banner ads, you can be sure to get plenty of traffic. In TrafficStars we provide over 2 Billion impressions daily. Moreover, Banners are cost-effective: bid starts at $0.005 for TIER-3 countries.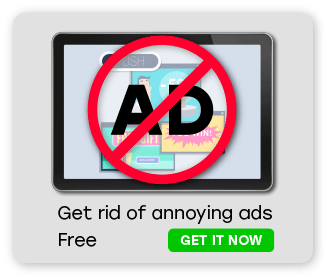 💡 300x100 and 300x250 are the most popular banner ad sizes in our inventory.
Utilities CPA Offers
We recommend working only with reliable affiliate programs and networks such as Zeydoo. They provide a wide range of profitable utility offers. Here are some examples:
ID 5879 | WW - XY VPN - Direct+Prelander СPI
ID 6506 | WW - Super Z VPN Prelander/Direct
ID 8485 | Multigeo - IronMeta VPN
ID 8613 | Multigeo - Rocket Cleaner with Prelander - CPI
ID 8684 | TotalAV Adsblock Desktop - Mobile
Recommended targeting options
Targeting is a super-important setting, especially when promoting software and apps designed for special devices and OS (Android, Mac, Windows, iOS, et al.) TrafficStars allows you to target users by many factors, including:
OS
OS version
Device type
Device brand
Location
Many others
One benefit of this is that advertisers can promote, say, a booster tool to users with older devices. Also, promoting VPN offers will make sense to users based in a different tier region, such as Russia, China, or Iran, where they will have trouble accessing resources in a different region.
🌏 Here is the list of TOP-10 GEOs by number of ad campaigns
Japan
United States
France
Sweden
India
Netherlands
Austria
Mexico
Belgium
Norway
Advertising Policies
When it comes to the policies of the utilities vertical, there is a fine line between adherence and violation in many cases, and it's important to make sure that all of your notifications play by those rules. For instance, push-ads that lead browsers to your product have to be careful with their language.
The general rule is not to use striking, or declarative statements. Instead, use words such as 'You may have', or 'malware may damage' etc. In short, it is against policy to scare or alarm users into using your app. Another example is if you name the exact number of viruses that a user is at risk of, the statement is considered too hostile and will be discarded.
Another rule is that you're not allowed to use brand images in your notifications, including Google, Microsoft, Adobe and other prominent icons.
Summing up
The utilities and software vertical is hot, and it's not going away anytime soon. This means that you can increase your profit margins by running utility offers through Traffic Stars. You can test different ad formats and creatives to craft the most effective strategy that will boost your brand affinity.
If you are looking for a smooth, cohesive platform through which to create your first CPA bidding model, look no further than Traffic Stars. With insightful analytics and a user-friendly system, you can create, track and optimize your endeavors efficiently and professionally.