Intro

In a world where traditional marketing approaches often seem saturated and overly competitive, this case study serves as an inspiring testament to the limitless possibilities of affiliate marketing. Take, for instance, the vast array of webcam affiliate programs available today, alongside a substantial number of affiliates promoting them. Despite this seemingly crowded landscape, our media buying manager has effectively demonstrated how to make money as affiliate webcam marketer.
Venturing into the dynamic world of webcam affiliate marketing opens doors to a lucrative and ever-expanding industry, where the fusion of technological innovation and marketing strategies can lead to financial success. By becoming a webcam affiliate, individuals can break free from the constraints of traditional marketing and tap into the thriving market of interactive and personalized content, proving that innovation and adaptability are key to thriving in the digital business landscape.

Throughout this case study, he reveals his strategy, which includes the importance of fine-tuning ad campaigns, setting auto-optimization rules, and finding high-performing sources. All of this ultimately allowed him to achieve a remarkable ROI of 19%. Leveraging the power of video ads and banners, our media buying manager made $15996 in net profit over just six months.
So buckle up, and let's pass the floor to the author of this case study.
I've decided to get into the adult webcam affiliate game, even though many folks think it's too late and no more whales are left. But guess what? My case study shows there's still a ton of potential in the webcam industry, and it can be super profitable for affiliates in the long run.
I'm not a fan of juggling various offers, so I've decided to go with Stripchat. This is a direct webcam program of Stripcash. And perhaps this is the best webcam affiliate program out there.They have a top-notch product and a solid reputation, which helps attract users willing to spend big bucks.
The offer and strategy
The video ad format is the ultimate choice for grabbing the user's attention and showcasing Stripchat in the best possible way. Users see the models in action, creating a highly engaging and visually captivating experience. Plus, regarding Tier 1, the competition for video ads is relatively lower than other ad formats.
On top of that, with Stripcash, affiliates have access to a treasure trove of pre-made language-specific ad creatives, including banners, videos, and pre-landings. This means you don't have to spend endless hours creating your own materials - it's all done for you!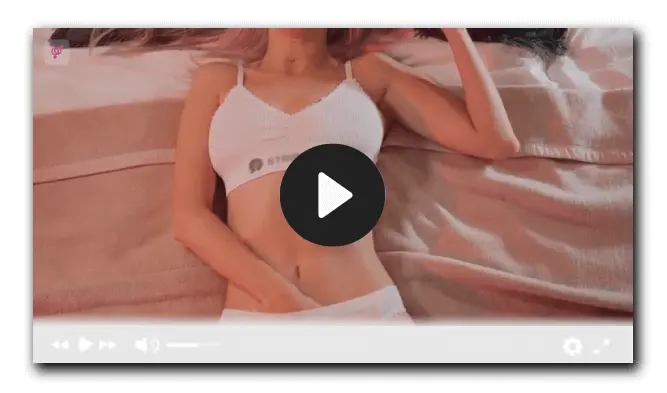 Let's get down to my advertising strategy that led to remarkable success. After careful consideration, I tested Tier 1 GEOs alongside the Asian Tigers: South Korea, Taiwan, Hong Kong, Singapore, and Macao. It's no surprise that Tier 1 countries are the most profitable, but here's where it gets interesting. My account manager at Stripcash, strongly recommended focusing on the Asian Tigers, as they are currently experiencing a peak in activity.
Regarding the payout model. It's a RevShare, which means you earn a sweet 20% commission on users' spending for their entire lifetime. The best part? Even if you decide to pause your traffic or take a break altogether, your commissions will keep rolling in. It's like having a passive income stream that just keeps on giving. But remember that to optimize your ads properly, and you have to set up postback and calculate the CPL, CPA, and LTV of users. I will write about how I calculated these metrics below.
TrafficStars campaign settings
When it comes to campaign settings, simplicity is key, and that's where TrafficStars shines. From targeting options to ad formats and budget allocation, you'll have all the essential tools at your fingertips.
For example, there are convenient country presets. Just what I need.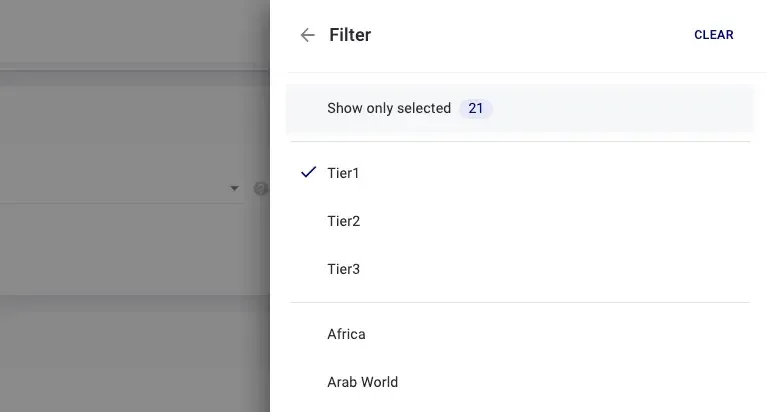 Click it, and voila! All required GEOs are added.

I create separate ad campaigns for Desktop and Mobile + Tablet devices.

Another helpful feature is proxy traffic exclusion.

And now attention, a super important setting - I create a campaign targeting RON sources, blacklisting xHamster and PornHub sources. Why am I doing this? Well, it all comes down to competition. These particular traffic sources, xHamster and PornHub, tend to be fiercely competitive. Creating separate campaigns tailored explicitly for these sites is essential to analyze campaign performance effectively. By focusing on RON sources while excluding these high-competition traffic sources, you'll gain valuable insights and optimize your campaigns for maximum success.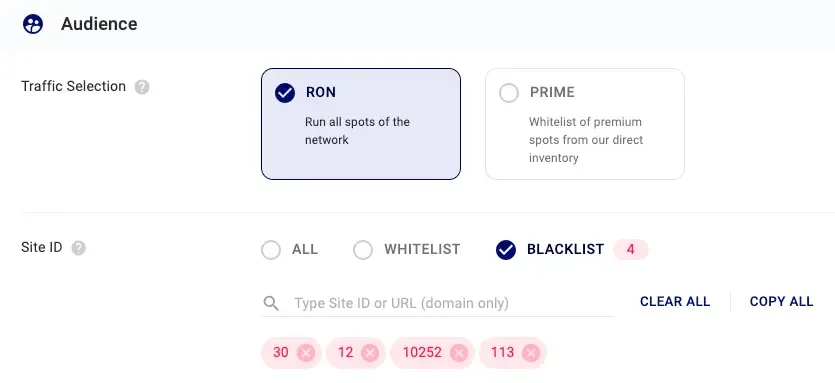 Another important setting is – Select only Direct Inventory to get only high-quality traffic.

The next step is pricing. Check the Dynamic CPM and Recommended bid.
On the last page, select VAST and upload the promoted link from Stripcash.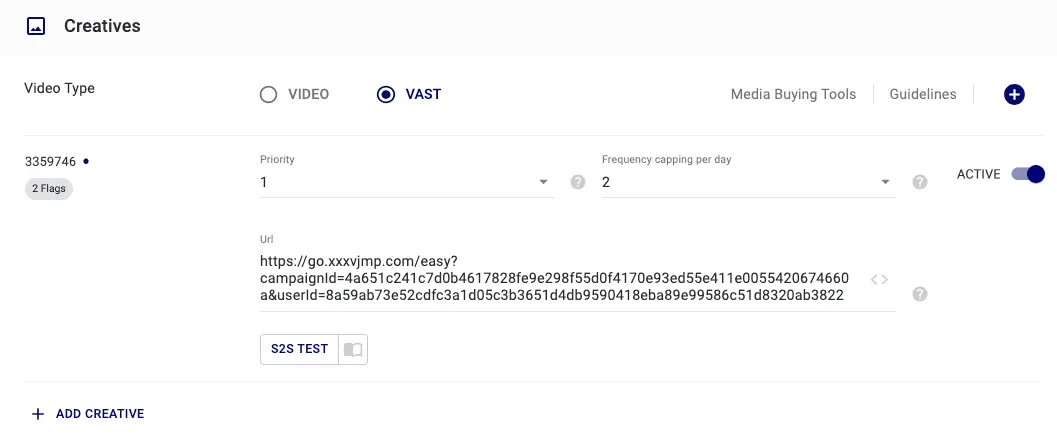 I set the frequency capping at 2. This means that each user will only see my ad no more than twice a day.
💡 Ensure that the Postback URL is correctly configured to transfer conversions.
Optimizer
But the campaign setup didn't end there! There was one small but important thing - adding the Optimizer.
Since I got paid on the RevShare model, it was essential to calculate the approximate cost of acquiring a user who would make the first deposit. After thoroughly analyzing the webcam market and studying the payouts for initial sales, my effective cost per acquisition (eCPA) would amount to $150. Naturally, my target eCPA needed to be lower than the Lifetime Value (LTV).
Let's assume that every 10th registered makes a purchase, and then the target eCPL would be $15. However, these numbers might vary across traffic sources, and users' behavior could also differ. The cost per lead (CPL) should fall within $10 to $30 to account for these variables.
To optimize the campaign to meet these specified targets, I configured a postback for both user registrations and the first sales, specifying a value of $150 for each. Consequently, any revenue generated would be attributed to the first sales, turning every spot where revenue was forged into a spot where the first purchases occurred. It's important to note that in this context, leads refer to the sum of registrations and first purchases.
Leads = registrations + first purchases
Based on this, I set up 3 Optimizers:
#1 One for blocking non-performing ad spots.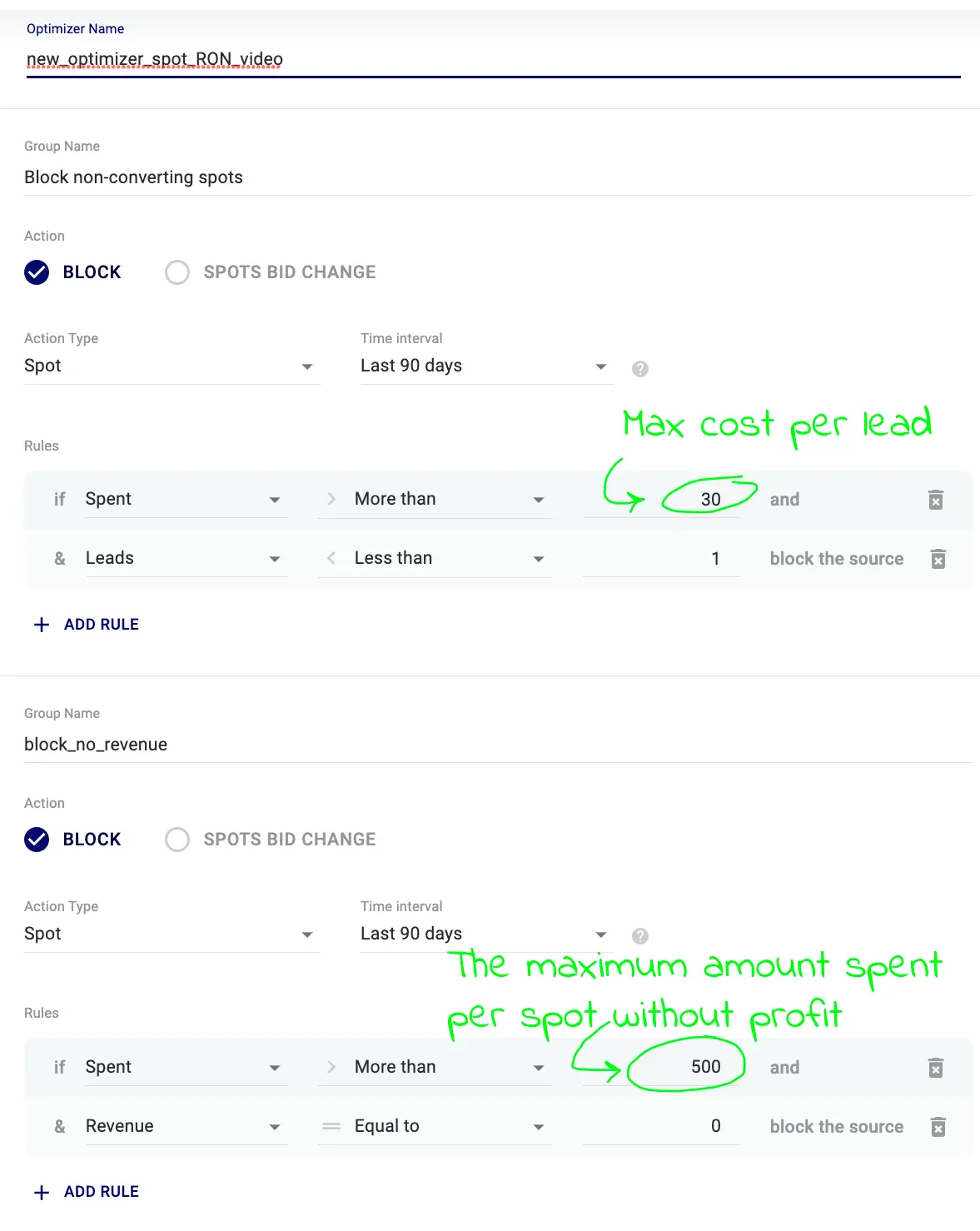 #2 The second one – changing the bid to stay in the target range.

#3 And the last one – blocking sources with too low CTR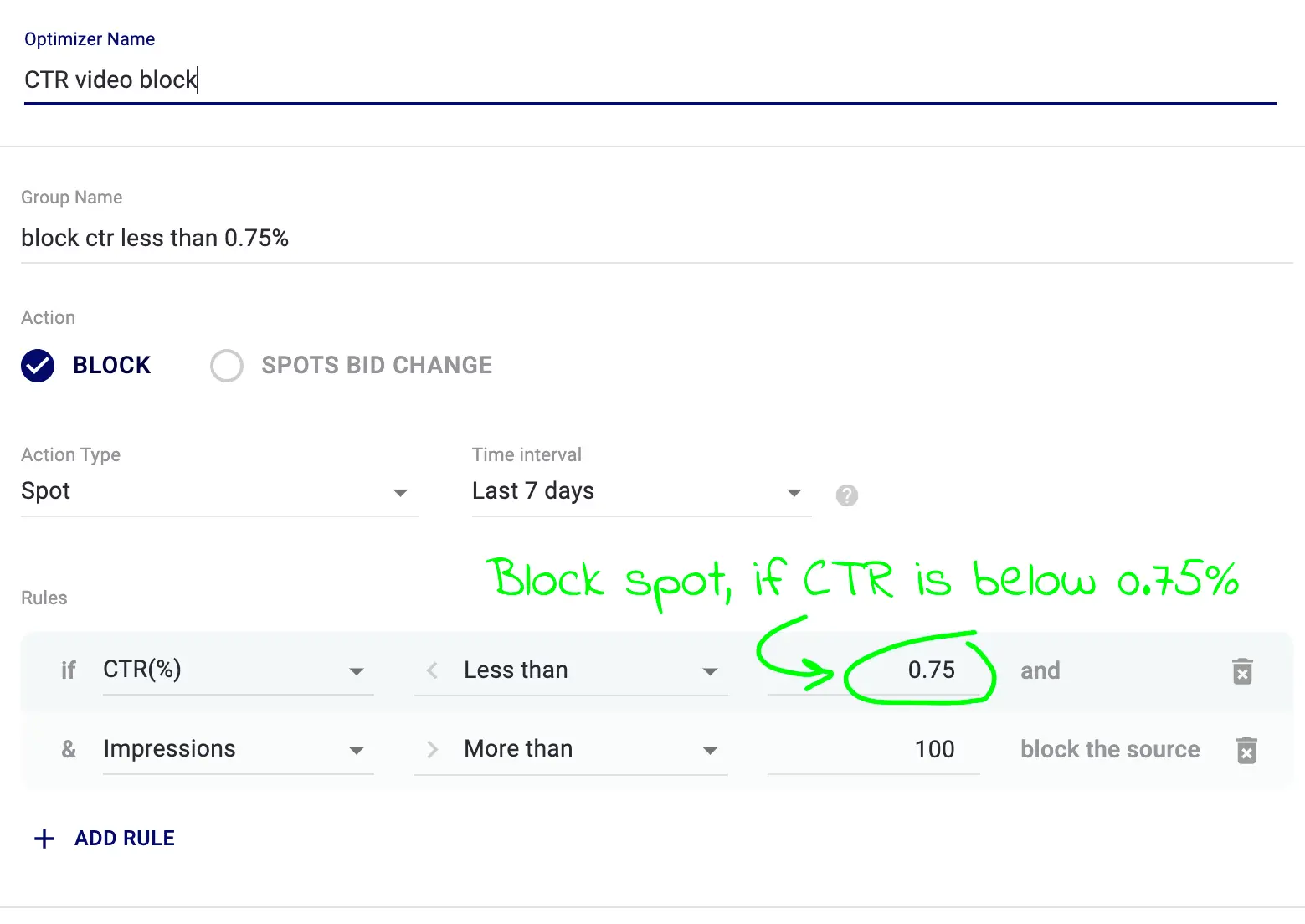 After that, I manually compiled real eCPA and eCPL statistics in Google Sheets.
💡 Learn more about setting up optimization rules
RON traffic results
After about 3 months, I got the following results for 2 campaigns:
Tier 1 | Video RON Desktop
Desktop targeting
Spent: $6173
Profit: $899
ROI: 15%
eCPA: $126

Tier 1 | Video RON Mobile+Tablet
Mobile+Tablet targeting
Spent: $37294
Profit: - $9208
ROI: -25%
eCPA: $237


The first campaign targeting desktop devices shows great results, but the level of spending could be a lot higher. I left it active after optimizing non-converting targets. Over time it will only bring more profit.
Based on the data of the second campaign, I identified the ad spots that brought the greatest profit, as well as 2 countries: Germany and France. As a result, I created 2 campaigns with a whitelist and targeted these countries. And here are the results:
DE | Video WL Mobile
DE + Mobile + German + WL (whitelist)
Spent: $4214
Profit: $1310
ROI: 31%
eCPA: $114


FR | Video WL Mobile
FR + Mobile + French + WL (whitelist)
Spent: $3339
Profit: $7209
ROI: 216%
eCPA: $57
xHamster testing and outcome
The results exceeded my expectations, so after a while, I launched 2 more video campaigns targeting only xHamster. My account manager advised me on the bid. The traffic volume was inconsistent due to high competition. But despite this, I made a profit.
DE | Video xH Mobile
Targeting: DE + Mobile + German + WL
Spent: $15302
Profit: $4548.91
ROI: 30%
eCPA: $425


FR | Video xH Mobile
Targeting: FR + Mobile + French + WL
Spent: $12800
Profit: $3712
ROI: 29%
eCPA: $346


xHamster gives a lot of quality traffic, but its competition is corresponding. Both of my campaigns turned out to be profitable.
Asian Tigers campaign
As mentioned earlier, my manager at Stripcash highly recommended Asian Tigers GEOs to me. These countries are known for their prosperity and economic stability, offering great potential for business growth. What sets them apart is the relatively low competition in these markets. Trusting their expertise, I dived headfirst into targeting these regions, and boy, did it pay off!
Ad format and ad creatives
My account manager at TrafficStars advised me to use mobile banners 300x100, he also generously shared the whitelist for these GEOs. In this case, video ads would cost me significantly more than banner ads. Regarding the ad creative, I used the iFrame widget I built on the Stripcash platform. It's a super handy feature. All you have to do is set up the settings and copy-paste the link. Easy peasy, lemon squeezy! It made the whole process a breeze and saved me time. Gotta love those user-friendly features!
👩‍💻 Personal manager support is available to clients who have deposited at least 7000 USD.
Campaign settings
I created a banner ad campaign targeting RON traffic and Direct Inventory. Since the min bids were similar, I didn't blacklist xHamster and PorhHub sources. Additionally, I have selected only mobile devices and non-proxy traffic.
Stunning results
Just look at the incredible results - a whopping 96% ROI! Managers' insights and expertise have proven invaluable in achieving positive outcomes. Always keep in touch with your account manager – it could be your ticket to affiliate marketing success 😎
Asian Tigers | Mobile banner 300x100 WL
Spent: $3269
Profit: $3154
ROI: 96%
eCPA: $74


It's clear that when you have information indicating that an offer converts well and there's low competition, you've hit the jackpot. These kinds of opportunities are like finding a gold mine. However, the conversion rate is slowly declining, indicating rising competition. More and more players are jumping in on the action, making it tougher to maintain those impressive conversion rates.
Overall outcome
Period: 01.01.23 - 30.06.23
Spent: $82391
Net profit: $15996
ROI: 19%
While the overall results may not be overwhelmingly impressive, it is playing the long game with the potential for a substantial increase in return on investment. According to my calculations, in 6 months, the total ROI of my affiliate webcam campaigns will exceed 100%. Even if I stop all campaigns now, I will continue to receive a commission because the clients I refer will continue to spend money. By the way, unlike the terms of Revshare payouts in other webcam affiliate programs, Stripcash provides a real lifetime guarantee of payments. This is a great alternative to investing in stocks. What do you think?
Looking ahead, my plans for the future revolve around testing more GEOs with minimal competition or untapped niches. I'm eyeing countries like Brazil and India,  as potential targets for expansion. These locations present exciting opportunities due to their sizeable markets and relatively unexplored sectors. Additionally, I'm particularly interested in delving into emerging niches, such as Tranny, Gay, and VR, where there is ample room for growth and innovation.